The great thing about modern devices is that they make our lives a lot easier. You do not need to waste your time on some routine tasks like cleaning your house. It is quite boring and tiring, especially if you have a big house. Cleaning large areas with a vacuum cleaner is a challenge, especially if it is heavy. Moreover, many vacuum cleaners are a source of noise that may cause a headache.
Luckily, there are smart vacuum cleaners that are able to clean your home without your help.
Article navigation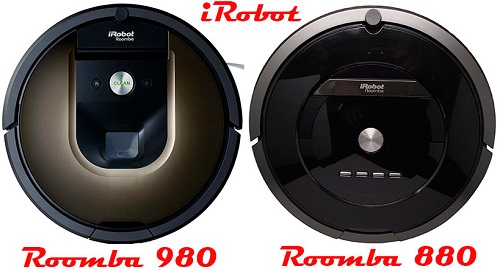 Forget about dragging your old vacuum cleaner around your house and checking every corner to make sure it is clean. Let smart robot cleaners do everything. iRobot offers a wide range of great models that are able to make your life a lot easier, so why would you miss that chance? Our comparison will help you find the best model for you.
Roomba 980 vs 880. The smart vacuum cleaner for your house
Cleaning is always time-consuming and quite boring. You need to clean every inch of your house and it becomes even harder if you live in a large house. Quite often, you will not want to do anything after cleaning but taking a good nap. Luckily, iRobot is ready to offer you a perfect solution - a smart vacuum cleaner, that will do everything on its own, and you do not even need to check if everything is fine.
This kind of devices becomes more popular in different countries and there is nothing special about it. The devices are able to make our lives a lot easier. Moreover, iRobot releases new models with new useful functions and it makes the devices a lot better in terms of cleaning. Modern smart vacuum cleaners can clean your house avoiding different obstacles. These devices are not loud at all and you can even watch a TV while it cleans the room. You should not worry about it, since these devices have sensors that prevent falling or damaging the vacuum cleaner or other objects. The reputation of iRobot is beyond any doubts. The company offers professional solutions only.
Our review will be very helpful for people who have not had any robot cleaners. We will compare Roomba 880 and 980.
Roomba 880 - the perfect vacuum cleaner for large houses and small apartments
This is a modern model from iRobot. It has a very attractive modern design. This vacuum cleaner is not only a good-looking device, but it is also a perfect solution for people who do not want to waste their time on cleaning their homes. Let this robot do its job. You will not regret it.
Pros Roomba 880:
Battery capacity is 3000 mAH and its life is 90 minutes. That is enough to make sure the device cleans your house without frequent recharging.
Auto charging. The device goes to the recharging point automatically so you do not need to drag it.
Dustbin capacity is 650 ml. It may seem to be very small, but it is enough to clean the apartment. You do not need to clean the bin frequently.
The using area of 1700 square feet. The area is quite large.
Noise level is 66 dB. This noise level is quite low. You can still watch TV without increasing volume.
Cleaning modes include auto, spot, edge. The device can complete different tasks and clean every corner of your home.
Remote control. It facilitates controlling of the device since you do not need to come to it to change the mode of cleaning.
Virtual wall function. You can introduce limits for the robot.
Time scheduling function. You can make the device work when you are not home. This is especially useful when you do not want to hear a noise of a vacuum cleaner.
Cons of Roomba 880:
No Wi-Fi connection. It would help you to control the cleaner with your device.
No display that can provide you with useful information.
No voice control.
No single-room or intensive cleaning modes.
Available in black color only.
It is a great solution for people who value their time and who do not want to bother with cleaning. The device can work without your help. You just need to start the cleaning process and that is all! Moreover, it has a scheduling function, so it can start cleaning when you are out. It is a perfect option for people who want to see a clean house when they come back. However, the device does not have voice control. It could be a perfect way to control the device without pressing a single button! It does not have Wi-Fi control either. In that case, you would have an opportunity to control it with your phone or tablet. Overall, it is still a very good robot cleaner that is able to facilitate your life a little.
Roomba 980. Stop wasting your time on cleaning!
Roomba 980 is a new model that is able to clean your house quick. This device has many wonderful features that can make the cleaning process faster and the result will always amaze. This model became very popular due to its characteristics. What can be better than seeing how a robot does your job? That is right what this model is all about. It will clean your house while you do something you like. You can even take a nap. If you do not want this robot to hinder you, then you can just set a schedule and it will clean the house while you are out. Therefore, when you come back, your house will be clean. That is how great this device is!
Pros of Roomba 980:
A Li-ion battery. The battery is made in accordance with modern standards. Therefore, it does not require recharging often and it is environment-friendly.
120 minutes of battery life. The robot will have 2 hours to clean your house. That is enough to clean a large area without going to the recharging station.
Auto charging. You do not need to take it and bring it to the recharging station. The robot will go to the station when it needs. Therefore, you do not need to worry about it.
Charging time is 3-4 hours. It is not that long, considering the fact that it is able to work for 2 hours. In any case, it will recharge and continue cleaning automatically.
The suction power is 1670 pa. It is enough to clean any surface and catch all dust.
Dustbin capacity is 600 ml. The capacity is enough to clean a large house without cleaning the dustbin.
The using area is 1900 square feet. It is quite big and you do not need to worry if the robot is able to clean your home.
Air filtration. The robot will clean the air it blows. Therefore, the rooms will not be dusty.
Remote control. You do not need to come to the device in order to change a cleaning mode. Everything can be done remotely and it is very convenient.
Wi-Fi control. The device can be controlled via Wi-Fi.
Virtual wall function. The device will not go somewhere you do not want to. It is a great function to limit the working area of the cleaner.
Voice control. You can control the device via voice commands. It is very useful.
Cons of Roomba 980:
No display that can provide you with useful information.
Available in black color only.
No single room or intensive cleaning modes.
It is the next stage of the Roomba models. It is a very reliable smart vacuum cleaner with many functions you need to clean your house. Of course, it is larger and heavier if we compare Roomba 880 and 980. Nevertheless, it has Wi-Fi and voice control.
At the same time, it cleans your house perfectly. It is a perfect option for people who look for a modern solution that will let them avoid using old, noisy vacuum cleaners. Of course, it does not have a display that could be used to provide a person with useful information, but it is completely automatic. You do not need to worry about it. It is able to find the way, go around obstacles and it will not fall off. It is a very good solution from iRobot.
The vacuum cleaner for your house to make it clean.
Both models are great. iRobot is one of the world-leading companies that offer high-quality robot cleaners. These models are perfect both for large houses and for small apartments. It can be used everywhere.
These vacuum cleaners are smart enough to go around obstacles, clean every corner and continue cleaning from the spot where their battery went low. However, these two models are quite different. The first difference you will notice is their size and weight (980 is bigger and heavier). However, the Roomba 980 dustbin capacity is smaller.
Nevertheless, it is able to cover a larger area (980 -1900 square feet, 880 – 1700 square feet). It can work for 2 hours without recharging, while Roomba 880 is able to clean the house for 1 hour 30 minutes. The price difference between the models is quite big as well. It is around $240-260 (980 is more expensive).
These two models are quite alike in terms of their characteristics. Roomba 980 has Wi-Fi and voice control and that is one of the biggest differences. Therefore, if you need a super modern device, and your house is not that big then the 980 model is right for you. If you do not need all that modern functions and you want a good robot cleaner without spending too much then 880 will be a perfect solution for you. Please consider checking our other reviews where we compare other robot vacuum cleaners. Maybe those models will suit even better. Make your life easier with iRobot devices.
Compare Roomba 980 and Roomba 880