What is the best sewing machine for quilting? It is likely to be the one helping the user achieve the most spectacular results in garment construction and quilting masterpieces. As long as you expect to develop your sewing skills, proper equipment is what empowers you with a variety of tools for improving your creative capabilities. Below, you can read more about the most popular sewing machines characterized by high-end specs and all falling within the reasonable price range. Explore their pros and cons to compare sewing machines for quilting.
Sewing Machines for Quilting Reviews
Brother CS6000i — best sewing machine for quilting
The Brother CS6000i is an affordable and versatile machine offering the user to choose among 60 built-in stitches and 7 styles of one-step buttonholes. The model has a number of automatic features which boost the process of creating quilts and other projects.
The machine is utterly user-friendly and doesn´t take long even for newbies to grasp its principle of operation. You should just touch the lever on the side of the machine to have the needle threader activated. A required stitch is set on the LCD screen with a simple click. The sewing speed is adjustable and allows working at the pace you feel comfortable with.
When it comes to the machine construction, it has nothing to complain about. The table is bigger than the usual size, which provides extra space for extremely large clothing or quilts. The sewing area has an option of illumination from which you will most likely benefit when working with dark fabrics. The machine also has a hard protective case in the kit.
All these characteristics contribute to smooth and even sewing so that both beginner and advanced users feel at ease with the Brother CS6000i. With regard to the absence of significant drawbacks, I would consider this model a good sewing machine for quilting.
The sewing machine comes with a generous amount of accessories.
The lighting is bright and powerful.
It requires regular cleaning; otherwise, the machine malfunctions and gets stuck.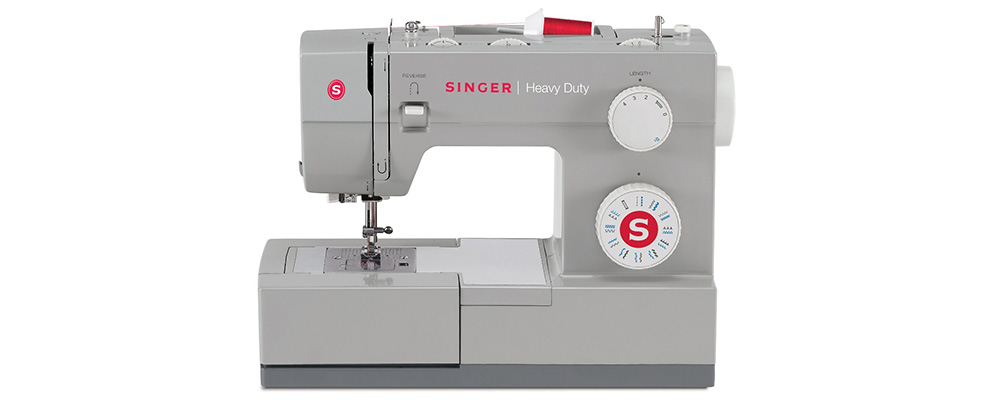 The SINGER 4423 is potentially the best quilting machine due to its attractive specs and diversified parameters.
The appliance is capable of performing 1,100 stitches per minute owing to its 60% stronger motor. The heavy-duty frame made of stainless steel ensures a long-lasting service, and the increased capacity allows you to deal with dense fabrics and produce thick seams. The machine is completely computerized and easily manipulated. A set of sewing machine accessories including feet, bobbins, a screwdriver, an auxiliary spool pin are in the kit.
As to imperfections, the number of stitches envisages 23 styles, which makes this best Singer sewing machine for quilting look limited as opposed to other models here considered.
Based on that, the SINGER hasn't any conspicuous features but is strong enough to excel in any industrial sewing machine. In case you intend to work on complicated projects, this model is a sensible choice.
Instead of reading the manual, you can watch videos to learn how to use it.
The foot pedal is remarkably sensitive.
Some details are made of a very flimsy metal or plastic.
SINGER 9960 — best sewing machine for quilting beginner
The SINGER product which could become the best quilting sewing machine is the SINGER 9960.
This model is an undoubted leader in the number of built-in stitches, with a total of 600, including 5 alphanumeric fonts and 13 one-step buttonholes. The design is very similar to that of the Brother CS6000i. All details are computerized and function automatically, such as 7-segment feeding system, automatic presser foot pressure control, automatic thread tension control, etc. The working area is accommodated with a wide quilting table and two LED lights to provide optimal viewing so that the eye strain and frustration don't afflict the tailor. The sewing speed constitutes 850 stitches per minute. The sewing machine, on the whole, is highly customized, which lets the user go in for crafting, sewing, quilting, and even home décor.
With regard to all its positive characteristics, the SINGER 9960 is able to fulfill any sewing goal and provide the user with numerous tools to create superb quilt patterns.
The sewing machine operates silently.
The mirror imaging feature allows changing the direction of stitching with a mere push of a button.
The automatic needle threader is fussy so you have to lift the needle to keep the appliance in operation.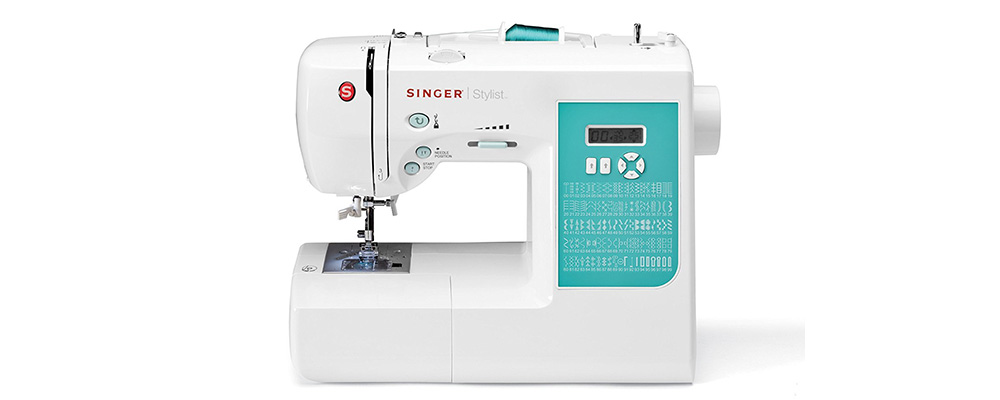 The SINGER 7258 is a successful start for greenhorns who are so eager to develop perfect quilting skills. The sewing machine has optimum settings which facilitate the process of learning and make it one of the best sewing machines for quilting.
The appliance delivers high-quality performance with the minimum user's involvement, as most functions are programmable, including electronic start and stop and automatic presser foot pressure control. The user is free to pick up any fit stitch among 100 variants. The stitch length and the sewing speed are both customized, which allows creating refined and elaborated designs. The sewing area is equally illuminated with an LED long-lasting light bulb, which ensures clear viewing of the working surface and does not heat up during operation.
The product is packed with a number of feet (all-purpose, zipper, and buttonhole) as well as a metal frame protecting it from damage.
In a nutshell, the SINGER 7258 has every chance to acquire the best sewing machine for quilting title, but it is only you who decides whether its specs are enough to live up to your expectations.
The bobbin case is transparent, so you always know how much bobbin is left.
The sewing machine works noiselessly.
Convenient manual instant needle threading spec.
The foot pedal cord is somewhat short (4 feet long) and may take part of your workspace.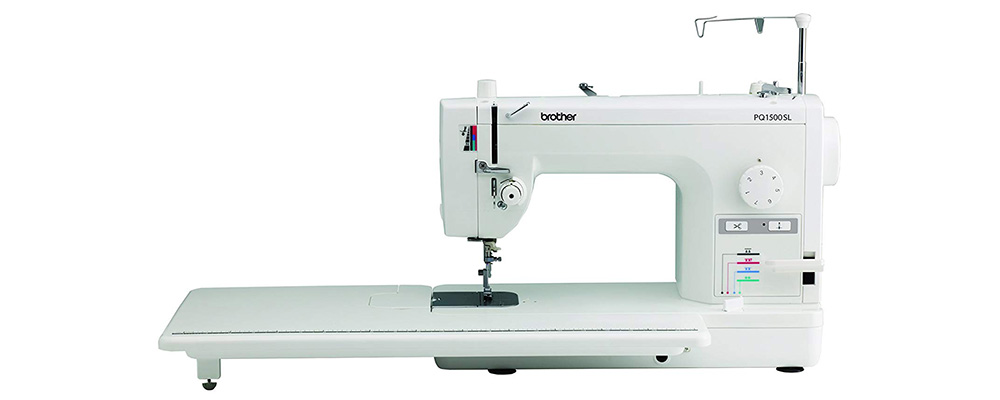 The Brother PQ1500SL is a high-performance sewing machine, which is able to sew up to 1,500 stitches per minute.
Firstly, the machine is equipped with a time-saving automatic thread cutter and F.A.S.T. needle threader, both making sewing fast and trouble-free. The PQ1500SL also has an adjustable pin feed mechanism, which allows avoiding feed dog marks in the nap when working with delicate fabrics. Four feed dog settings help fix a fabric solidly at different angles. The table is large-sized and works well with bulky fabrics. The LED screen provides lighting on the sewing area. The user can benefit from a fabric separator for handling difficult fabrics. The machine starts and stops with a push button automatic thread trimmer.
In short, this best Brother sewing machine for quilting is a fully computerized machine, which creates all the needed conditions for the user to be at ease with sewing. Those who approve of its specs will fairly consider it the best sewing machine for quilting.
The feet to level the table are easy to access and adjust.
The bobbin winder stops when it is full.
The needle threader may be difficult to use, as there is no indicator of when you have run out of thread.
The Brother XR9500PRW belongs to the high-end class of sewing machines for quilting and offers the user a set of unique benefits.
It has all the necessary functions for modern and convenient quilting, namely a large-sized table, automatic bobbin winder, automatic needle threader, customized needle position, adjustable sewing speed control, and electronic start and stop operations.
Firstly, the user is pleased with 165 stitch options, each having a total of 140 functions, which is an extremely large diversity for amateurs and mature tailors. Another distinctive characteristic is a built-in sewing font for basic monogramming with 55 types of alphanumeric stitches, which assign this very model to limited edition products.
To sum up, the Brother XR9500PRW is not inferior to any other on this list. It operates properly and is best suited for those striving to create exquisite and intricate quilt and clothing designs.
It has a very easy-to-learn user interface.
Managed to saw through 5 layers of cotton.
The appliance is not allowed to exploit in areas with no support for 120V AC.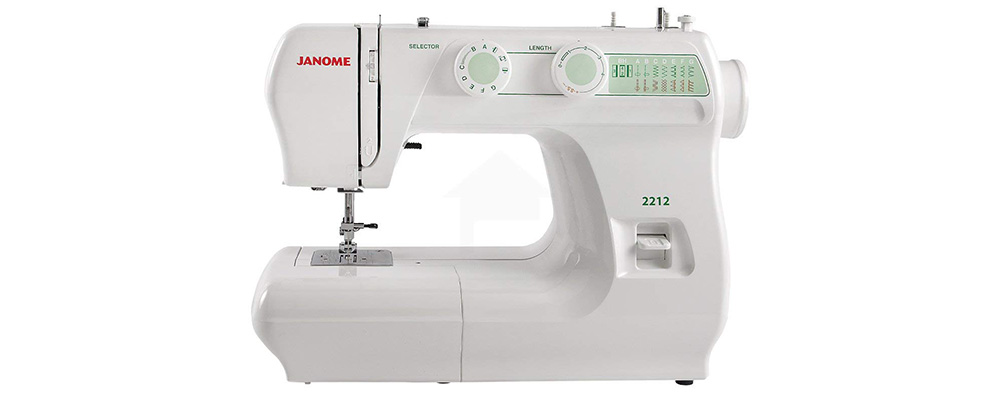 It is another product with a promising quilting sewing machine recommendation. The Janome sewing machine quilt machine offers the user fewer sewing opportunities but is still a good entry-level model at the affordable price. Most features, including the needle threading system, stitch length, and thread tension, should be manually adjusted. The built-in thread cutter offers to choose among 12 built-in stitches with 4 step buttonholes. The maximum stitch length makes up 4mm, which slightly constrains the tailor in their sewing decisions.
This best Janome sewing machine for quilting looks weaker in comparison with other fully electronic models offering a wider range of stitches. There is no LCD display screen with bright lightning, and the user should make more efforts to keep the sewing machine in operation.
One more point to consider is that the sewing machine is available only on the US territory.
In summary, the Janome 2212 is an adequate choice for those who stick to traditional sewing and are ready to ignore the lack of modern features.
Along with the purchase, the user gets the exclusive bonus bundle.
The instruction manual needs more elaboration.
There are some problems sewing layers.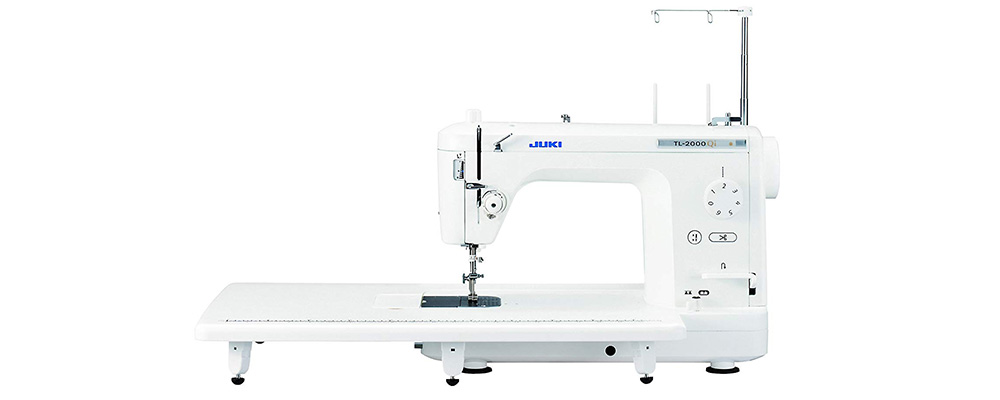 The following candidate for being called the best sewing machine for quilting is the JUKI TL-2000Qi.
The sewing machine is able to make 1,500 stitches per minute and is controlled by pushing a pedal. The working table can be extended and provides extra space when you deal with large projects. The JUKI TL-2000Qi is equipped with an aluminum die cast arm and bed to resist vibration. So the user is unlikely to be disturbed when sewing or quilting. The LED illumination may be activated when the ambient light is weak. The machine delivers impeccable stitch quality and is able to handle the most elaborated quilt patterns.
Therefore, the JUKI TL-2000Qi is a desirable option if your primary goal is to succeed in quilting.
Bobbins and a screwdriver to change needles and feet are in the kit.
Automatic thread cutting off.
The sewing machine may jam thin or cheap fabrics.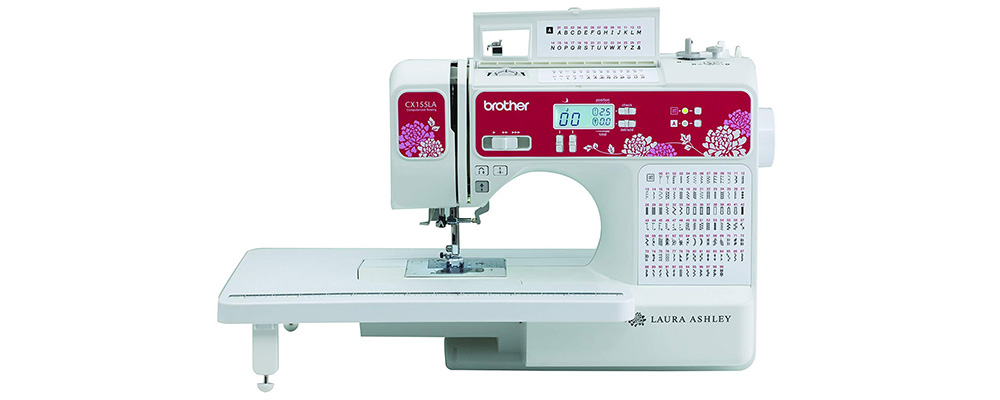 The Brother CX155LA is also part of the quilting sewing machine reviews on the low-cost and high-class products. It doesn't have any supremacy over other top rated sewing machines for quilting, but it proves capable of delivering excellent results.
The CX155LA can produce 135 types of built-in stitches, including 8 styles of one-step buttonholes. The model is packed with 11 sewing and quilting feet, providing the user with vase creative opportunities. The workspace is 33% larger than normal, so you can feel at ease when working on oversized projects. The LCD display is properly illuminated to ensure clear viewing, especially during work with dark fabrics. All operations are auto-controlled, so the tailor can enjoy sewing without the need to control the process. The sewing speed is 850 stitches per minute, which suffices to work at a fast pace.
The operation manual and the instructional DVD guide are enclosed to assist the user in dealing with the machine.
Newbies are likely to benefit from the quilting guide included in the accessories.
It is resistant to jamming.
The sewing machine produces rough noises.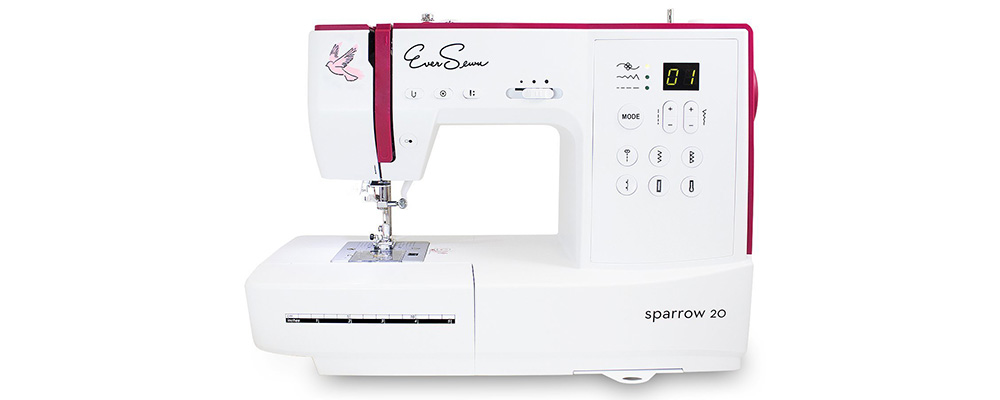 In quilting sewing machine review, the Eversewn Sparrow 20 is another decent product for the user's attention.
The quilt sewing machine is, by and large, similar to the previous appliances. In particular, such characteristics as a big backlit LCD screen, large-sized quilting table, computerized stitch selection, and electronic start and stop operations make the Eversewn Sparrow 20 user-friendly but do not make it one-of-a-kind in the US market. The number of stitches is not extended and constitutes a total of 80 styles. All stitches can be maximum 7mm long and work in 15 needle positions. The Sparrow 20 comes bundled with sewing feet and quilting accessories stored in a free arm compartment.
This sewing machine is reliable and well-functioning. If your preferences encompass Eversewn products, the Eversewn Sparrow 20 will be the right choice. If not, you have other alternatives to consider.
The user's manual is written in plain, concise English and easy to deal with.
Makes even and strong stitches.
The foot pedal is quite flimsy and needs a great deal of pressure to set the machine in motion.
Buyer's Guide
How does a Quilting Machine Work?
What is a quilting machine? In fact, a quilting machine is a bigger version of a sewing machine that allows the user to work with larger fabrics. Basically, the best sewing machine for quilting and embroidery has a needle, a powerful motor that drives this needle up and down with the help of a foot pedal, and a giant throat (20-26 inches). Standard quilting machines use only one straight stitch in their work with no feed dogs to ensure that the user has full freedom of moving the fabric through the opening. Stand-up quilting machines work on the same principle but offer a larger space for quilting as they can be mounted on their wheels on very long tables (up to 14 foot long and 5.5 foot wide) to ensure comfortable work with giant fabrics.
How to Choose an Adequate Sewing Machine for Quilting
The most important issue to shed light on is how to choose a sewing machine for quilting. First, you should avoid all those digital screens and tons of feet as they usually give a mere quilting advantage with a high price to be paid for them. Second, opt for those machines having three core stitches (the straight stitch, the zig-zag stitch, and the blanket one) as other stitches are optional. Third, find those models offering the needle positioning to the left and to the right of the center and a "needle up-or-down" function. Additionally, search for models with the capability of lowering the feed dogs, an automatic thread cutter, a free arm, and a speed control button to enjoy comfortable quilting. Moreover, choose models with a large bed or those that can be equipped with extended beds. Finally, buy only those sewing machines staffed with three main feet types (1/4" foot, a walking foot, and a darning foot) ideal for quilting.
How to Quilt With a Sewing Machine
So, you want to learn how to do quilting. There are several steps you should follow if you desire to make your first quilt. First, you should determine a quilt pattern based on what result you want to achieve. Second, gather everything you need before starting the process. Third, cut necessary quilt patchworks pieces and sew them together using a straight stitch seam. Then, you should put the quilt sandwich together and baste all the layers carefully. After finishing this procedure, choose the method of quilting the layers (free-motion quilting, straight line quilting, quilting with an overall pattern, etc.) and add some binding finishes to make your quilt neat and strong on the edges.