Singer Sewing Machine — Best Models Compare
Title
Singer Quantum Stylist 9960
Built-in stitches quantity
Automatic needle threader
Singer Sewing Machine Reviews — Choose the Best for You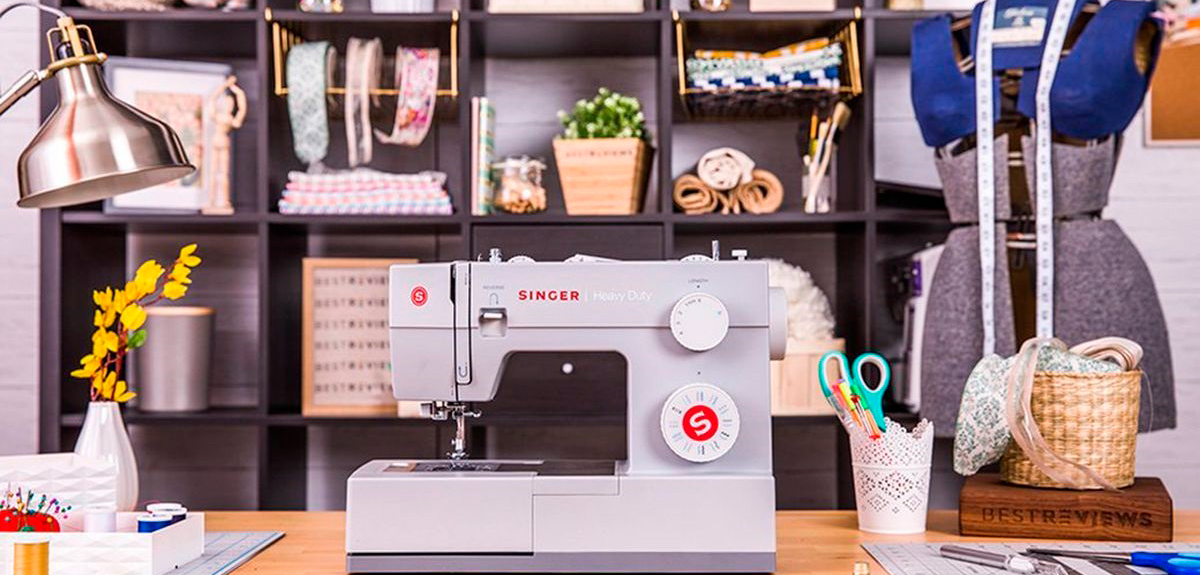 Singer is an American brand that is well-known for manufacturing solid sewing and embroidery machines suitable for professional and amateur sewing projects. It's also known for being one of the oldest and the most well-known brands in the sewing industry. It has earned a near-perfect reputation by producing high-quality products since 1851.
Anyone purchasing a Singer sewing machine today can be sure about its decent quality. Years go by, but Singer only improves its reputation. You can buy the brand's products almost anywhere in the world. Singer now produces electrical and mechanical, sewing and embroidery machines, as well as sergers. However, although there are a lot of computerized models on the modern market, Singer still focuses on the traditional design and simplicity (but has a fair amount of computerized models in its range as well).
It may be hard for an average sewer to find the most suitable machine from the Singer line. That is why we decided to write this informative guide. For this review, we went through dozens of Singer sewing machine models to provide you with information on what this manufacturer has to offer. We researched their features, built-in stitches, and other specs.
Stitches
The models under $200 usually offer from 10 to 30 built-in stitch designs for key sewing techniques. Such models are very good for beginners and for those who use a sewing machine only for basic needs. They usually have an intuitive mechanical interface with a minimal number of controls.
However, if you are into traditional, non-computerized models but still want to get a wide choice of stitches, Singer also offers such models with mechanical control that feature from 100 to 110 built-in stitches.
The computerized Singer sewing machine models have from 150 to 600 built-in stitches for fashion sewing, home decor creation, etc. This type of a sewing machine is irreplaceable for those sewers who work on creative projects. There are also models that mostly have decorative stitches.
This way, if you want a Singer sewing machine with the most basic set of stitches, the Singer 4411 may be the model you've been searching for. However, if you need a model, packed with numerous stitch designs, the Singer Quantum Stylist 9960 is probably the best choice.
So, when it comes to the number of offered features, the Singer Quantum Stylist 9960 appears to be a winner.
Our pick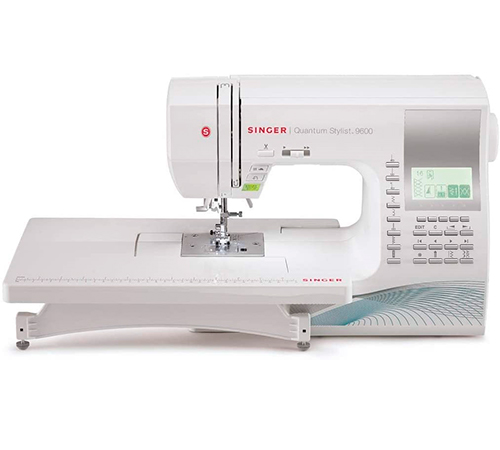 The best stitches
Computerized sewing machine
Automatic needle threader
600 built-in stitches
850 stitches-per-minute
13 presser feete
Automatic 1-step buttonhole
One touch stitch selection
Portability
In most cases, the heavy weight means the product's durability, and Singer sewing machine models are known for being among the most durable ones on the market. The average models weigh more than 14 pounds. Those machines that offer a big number of built-in features and large extensive tables usually weigh more than 30 pounds.
However, Singer also offers plenty of models that can be lifted with just one hand and take minimal space on the desk. They have rounded edges, a small footprint, and weigh less than 10 pounds. Such machines are easy to take with you to the sewing classes.
As you can see, the Singer sewing machine model list is pretty diverse. You can choose the model for home use or the portable one that can be easily carried from one location to another. If portability is important to you, the Singer MX60, which weighs 12.42 pounds and measures 13 x 7 x 11.5 inches, could be a good choice. The Singer Quantum Stylist 9960, on the other hand, weighs 20 pounds and measures 17.25 x 8.25 x 12 inches, making it impossible to call it a portable model.
This way, the Singer MX60 is the best model in terms of portability.
Our pick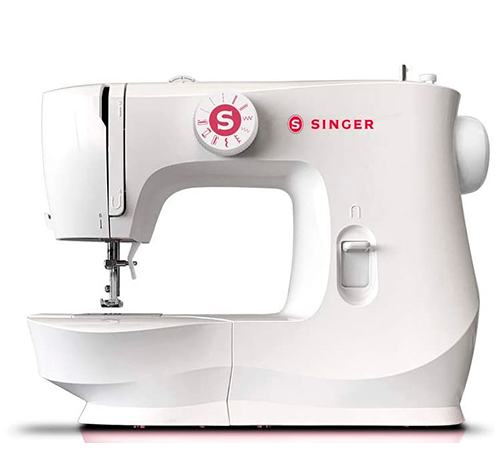 The best portability
57 stitch applications
LED Lighting
Front loading bobbin
4 step buttonholes/li>
6 built-in stitches
Adjustable thread tension
Heavy duty frame
Features quantity
In this part of our review, we will compare Singer sewing machine parts and functions. Let's start with the most basic mechanical models. They usually have no more than 3 manual controls and such functions as or semi-automatic buttonholes, pre-set stitch length and width, reverse stitching, and only a few automatic functions.
The models from the extremely popular 44 series have more features. For example, such Singer sewing machine has many more automatic functions: automatic needle threader, one-step, automatic buttonhole, etc. Such models are highly valued for their great piercing power, the fast sewing speed of 1100 SPM, and ability to tackle thick types of fabrics.
The computerized models have a plethora of features. Apart from providing the user with hundreds of different stitch designs, they feature different modes, are completely automatic, may combine sewing and embroidery functions, offer free-motion quilting, dozens of buttonhole styles, twin needle setting, and much more. They also have an LCD screen and numerous control buttons that make it easier to work with all these functions. Unfortunately, there are still not many Singer products with a touch screen and the ability to connect to a PC.
Thus, if you want a simple, moderately-priced sewing machine Singer, you should go for the Singer MX60. It has an LED lighting system, reverse stitching, a 4-step buttonhole, and simple mechanical controls. However, if you are an advanced sewer, the Singer Quantum Stylist 9960 may be a perfect machine for most of your needs: it's computerized, has a large extension table, an auto pilot mode, a large LCD screen, allows editing stitches, etc.
Obviously, in terms of features quantity, the Singer Quantum Stylist 9960 comes out on top.
Our pick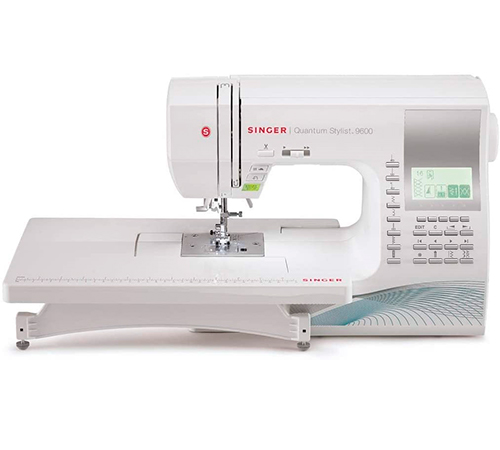 More features
Computerized sewing machine
Automatic needle threader
600 built-in stitches
850 stitches-per-minute
13 presser feete
Automatic 1-step buttonhole
One touch stitch selection
Accessories and attachments
All Singer sewing machine reviews agree that all models ship with all the necessary accessories and attachments that you are going to need to start sewing right after you get the machine out of the box. They are a pack of needles, bobbins, spool pin, presser feet, and a screwdriver for assembling the machine.
Expensive models usually include bonus accessories that would be prohibitively expensive if purchased separately. For instance, a set of distinctive presser feet, heavy-duty needles, a dust cover, a quilting guide, a wide extension table, and so on.
So, if you need a Singer sewing machine that comes with only the essentials, the Singer MX60 might be just what you're looking for. Its kit includes only 12 additions with only 4 presser feet. The Singer 7258 is the model for those that would like to get more accessories: it comes with 8 presser feet and many other additions.
The Singer 7258 wins in this category.
Our pick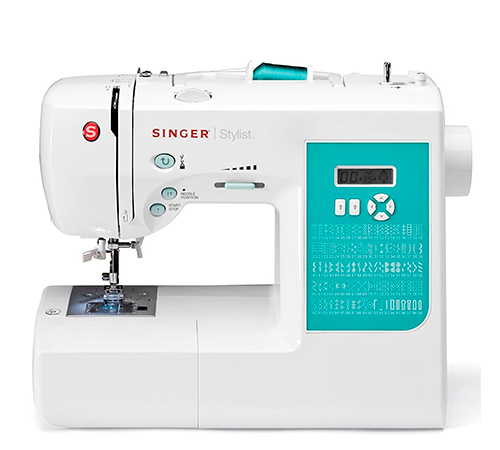 More accessories and attachments
Push button stitch selection
203 stitch applications
4 feet included
Automatic 1-step buttonhole
Automatic stitch length and width
Automatic needle threader
LED Lighting
Durability
Even the simplest and the cheapest sewing machines from Singer are so durable that can work for many hours every day without breaking or showing signs of malfunctioning. Moreover, performing our Singer sewing machine lookup, we were struggling to find a model that doesn't have a metal interior. Even the smallest models have a full metal frame. To prove the fact that their products have exceptional durability, Singer ships them all with a 25-year warranty.
The computerized models with plenty of built-in stitches usually have plastic cases. However, you shouldn't think that they are fragile and won't last for long. Such models still have heavy-duty metal frames. By the way, Singer doesn't use cheap, poor-quality plastic.
Such models as the Singer Simple 3232, for example, usually have a metal frame, average motor, and plastic case. Nevertheless, if you want an all-metal sewing machine Singer with a powerful motor and the ability to withstand heavy loads, the Singer 4423 may be the model just for you.
As you can see, the Singer 4423 is the best machine in terms of durability.
Our pick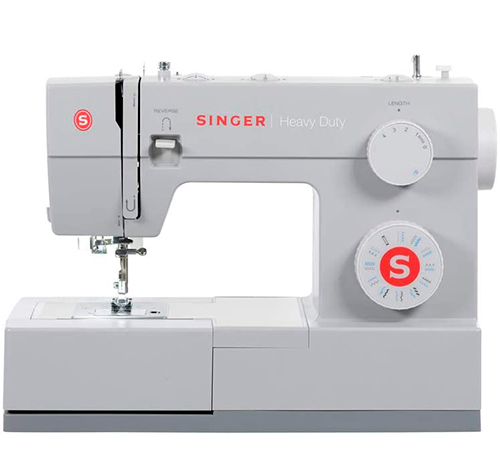 Best durability
Automatic needle threader
1100 stitches-per-minute
97 Stitch Applications
4 presser feet included
Automatic 1-step buttonhole
Built-in needle threader
Full metal frame
Price
Now, let's compare Singer sewing machine models and prices. The first point that should be noted is that Singer is a very reputable brand, so there are no models in its lineup that cost less than $100. The cheapest models from the brand are small and pretty basic. More advanced machines cost at least $150. The computerized models cost several hundreds of dollars. In general, the average Singer sewing machine value is around $250.
So, if you are on the market for the cheapest sewing machine from Singer, the Singer MX60 may be an interesting option for you. If your budget is not limited and you want to get as many features as possible, the Singer Quantum Stylist 9960 may be your choice.
When it comes to affordability, the Singer MX60 has the best value.
Our pick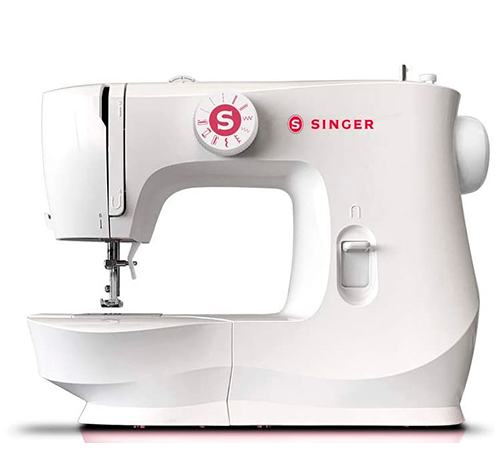 The best price
57 stitch applications
LED Lighting
Front loading bobbin
4 step buttonholes/li>
6 built-in stitches
Adjustable thread tension
Heavy duty frame
Conclusion
As it's clear from this Singer sewing machine comparison chart, this manufacturer offers a wide choice of models. There are both feature-packed and simple models for beginners, with basic and decorative stitches, classic mechanical and technological computerized models, portable and full-sized machines. What they all have in common are durability and decent quality.
So, if you've decided on the sewing machine Singer, you will most likely get the most benefit from its longevity, sturdiness, and simplicity. Besides, most models from the brand are cost-effective, so you have to break the bank to get one.