When looking for the best sewing machine for beginners, one can meet some challenges because of the diversity of models on the market. The compilation of the following assemblies is based on their cost-effectiveness in combination with functionality and reliability. They have enough options for both making the occasional scarf and creating a completely new wardrobe. Some machines are suitable for starting a new career as a professional tailor.
Pay attention to the models with the adjustable speed and needle, as well as a bobbin's clear cover to see when the thread in it runs out. Some models have extras that are helpful if sewing more often than part-time. It deals with such parts as a dual feed or a lever to lift the presser foot.
In any case, this list of the best sewing machines for beginners helps invest in a durable assembly whether it's a manual, mechanic or computerized unit.
Beginner Sewing Machines Reviews
Brother CS6000i - best beginner sewing machine
This computerized model could be the best beginner sewing machine despite the lack of automatic tension control because it is noted for its high speed (it's able to make 850 stitches per minute) to allow doing more projects in a shorter time. That's why the machine will last for both simple and intermediate home projects.
The unit has 60 types of stitches that are not impressive but quite enough to get many patterns. On the LCD screen above, it's possible to see the automatic adjustments of the stitches when entering the required width and length.
There's a slider on the front panel to regulate speed without the necessity to monitor pedal pressure sensitivity. In addition, one can dispense a pedal when using the start/stop button. The machine is easy to work due to the extension table, brightly lit workspace, automatic needle threader, and bobbin winder. It has enough power and efficiency can handle not only fabric but also leather.
Not noisy even at high speed (it reaches just 67.7 decibels).
Plenty of extras to make monograms, various types of buttonholes, and to insert zippers.
Cleaning brush, bobbins, and seam ripper are in the box.
Takes time for adjustments because factory settings aren't accurate.
Some decorative stitches make puckers on a satin.
It's not easy to work with denim because straight stitches aren't perfect.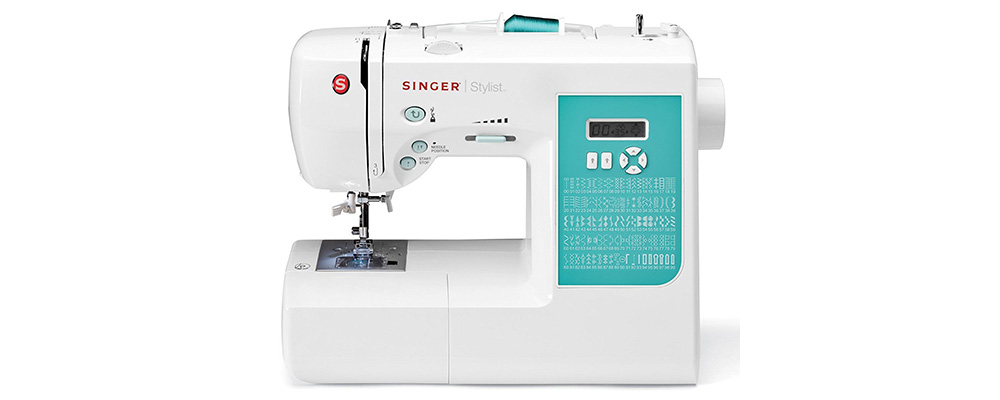 While thinking of the best sewing machine for beginners, keep in mind an automatic model that can make 750 stitches per minute (not the fastest model) and has 100 preset stitches that don't need any adjustment. That set includes basic and decorative stitches, as well as six styles of buttonholes. Note that if changing individual stitch's length and width on the LCD screen, it's necessary to all the way back through the number of changes or switch off the machine and then switch it on again.
The machine's speed can be regulated via a slider in the center of the front panel. Besides, it comes with nine extra sewing feet to save money if planning to advance sewing skills. Moreover, the machine has automatic tension control to provide a good tight stitch. It also features the special button to program the needle position. For example, drop down needle position feature for easy pivoting around corners. The unit also has an automatic needle threader to set up the machine easily.
It has the average sewing accuracy that's typical for the entry-level models. For example, some decorative stitches shrink a thin satin. The unit also lacks an extension table to make everybody buy it separately. This model sews smoothly and quietly (though at low and medium speeds only). It allows sewing dresses and skirts with elastic thread.
It comes with the sewing kit of needles and spool caps to provide easy start without additional purchases.
Refined stitch control ensures many needle options.
It has strong, heat resistant, and lightweight plastic gears inside instead of metal ones that use to jam.
Small storage compartment.
The cord for the pedal is too short.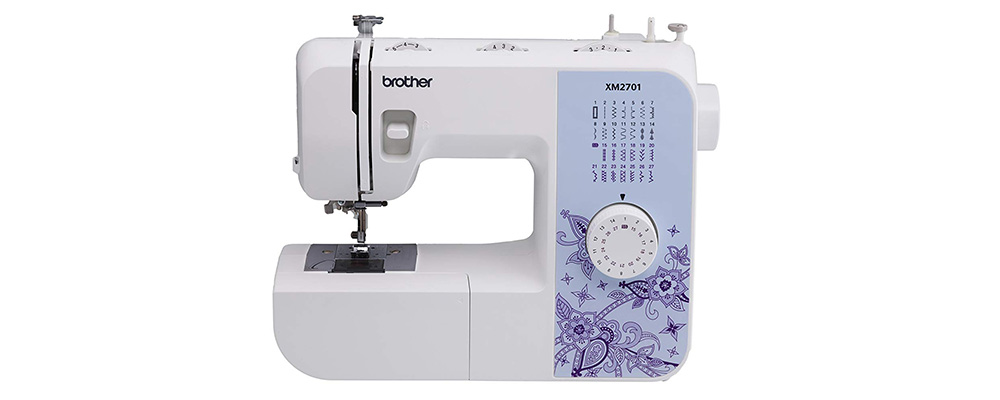 It's a portable basic sewing machine without display. Due to its size, the XM2701 saves much desk space. Besides, it stands out with a very specific floral design. This product is constructed to prevent jamming, but it works if providing accurate bobbin's placement first. It's not a problem due to the automatic bobbin winding that works flawlessly.
The unit is able to make only 27 different stitches and one style of a buttonhole. One can choose the required stitch in a minute when using a clear dial. However, its speed is up to 800 stitches per minute to handle fast with the simple home projects. To complete a more complicated task, one should buy additional accessories.
This is one of the cheap sewing machines for beginners that comes with six feet to make a buttonhole, insert a zipper, make blindstitch, zigzags, narrow hemmer, and button sewing foot. Note that the majority of mechanic models in this price range feature only four feet. It has automatic needle threader for an easy start.
Easy hemming due to a twin needle capability. In addition, the twin needle is in the kit.
It copes with stretchy material, thick quilting fabric, and upholstery fibers.
The reverse lever is positioned and works well.
Too sensitive foot pedal takes time to adapt.
The LED light could be brighter.
No case to store and transport it safely.
Speaking of the best value sewing machine, the Brother XR9500PRW should be mentioned since it fits both beginners and intermediates. It's a portable model to move it back and forward. It has the extension table that is detachable if saving space is the main goal. Moreover, the unit comes with a plastic case to transport and store the machine safely, protect it from dust and mechanical damage.
This machine features the advanced needle threading system and top drop-in bobbin system to make all the settings fast and easily. The needle bar area and the innards hold up well to the sewing and provide easy lettering. This model does a good job on denim hems, but one should make sure to use a thicker needle.
This easy to use sewing machine has 110 styles of stitches. The LCD screen displays the stitches' length, width, and position. One can select any stitch via a button below the screen. Eight sewing feet provide the possibility to attach a zipper, quilt, and other operations to handle a great variety of projects. Besides, it allows making eight different styles of buttonholes.
The opportunity to use either the push button or the floor pedal.
On-screen recommendations for the presser foot that works best with each stitch.
Good thread tension.
The stitch fails on jersey knit and woven cotton fabric sometimes.
Bobbin size is very specific (larger than usual) and it's rather tricky to go and get the right size.
Presser foot lever is a bit awkward to put up and down.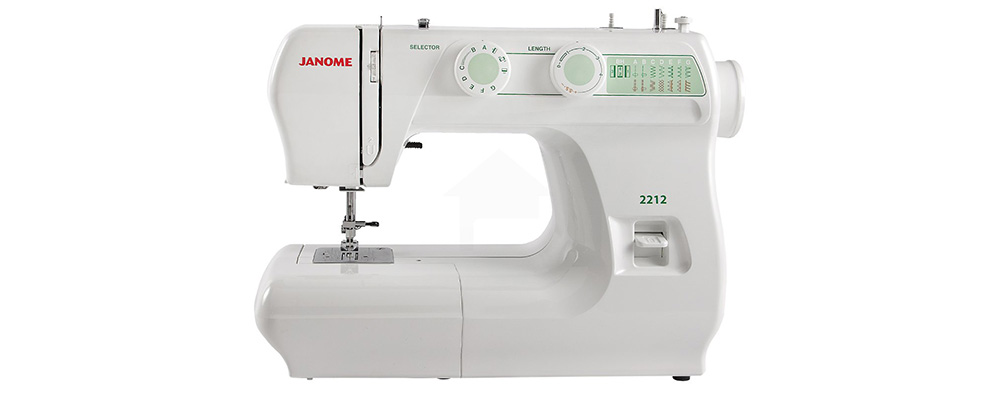 This mechanical easy sewing machine for beginners is durable – its cabinet is made of heavy plastic and the majority of its inner parts are metal.
It has 12 basic stitches to handle straightforward home projects and use a great variety of fabrics. It deals with straight, buttonhole, decorative, zigzag stitch, and a reverse stitch, inter alia. The marking is on the right of the machine and any stitch can be chosen with the aid of a selector. There's also a dial on the top to regulate the stitch's length.
The needle features two positions to pick the appropriate one taking into account the project's specs. The lamp is bright enough to light the work area.
The machine works well with plenty types of fabric including upholstery. In addition, there's no need to remove fabric in the case of thread jamming due to the front-loader that allow getting to the needle or the bobbin hassle-free. Note that this unit isn't designed to handle canvas, leather, fur, and twill.
Its needle plate has seam guides on either side of the needle.
It's easy to care. No need to apply for the professionals but just wipe the head of the machine with a soft piece of dry cloth and lubricate it when using it for a more extended period.
All the stitches are neat and tidy.
No built-in decorative stitch.
It has short needles and requires accessories that are for 5 mm front load bobbin machine.
It produces big noise.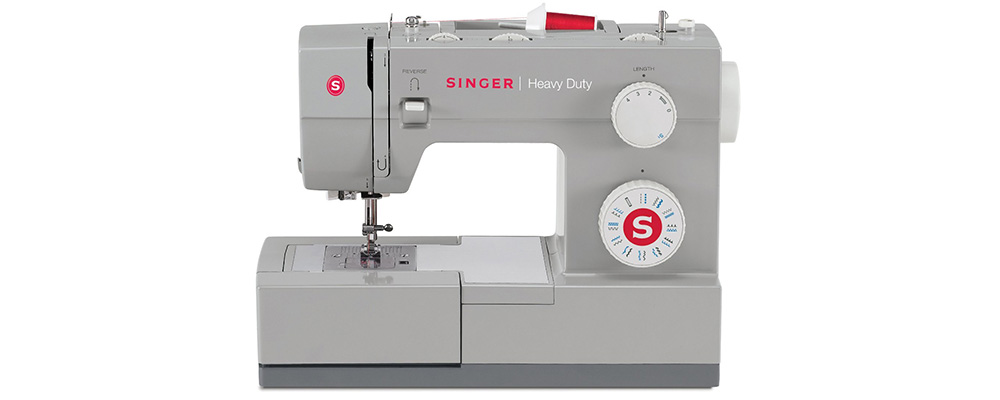 It's one of the easiest sewing machines to use and it features the highest speed in its class – 1,100 stitches per minute. Not every professional model can boast such rapidity. The machine is manual and allows sewing many frequently used fabrics including denim, canvas, upholstery vinyl, corduroy, and leather. Moreover, it copies with delicate materials (silk satin, for example) and ensures high-quality stitches. The main thing is to pick the appropriate needle from the set included.
The unit has 23 built-in stitches and twelve of them are decorative to make embroideries. Besides, with a simple turn of a selector, one can make the stitch longer for thicker materials and shorter for thinner ones within a range of 0.5–4 mm.
The machine's automatic needle threader permits not to strain eyes and a top drop-in bobbin ensures its easy installment and removal. However, note that it's compatible with plastic bobbins only but not metal. As for the pedal, it seems sensitive, but it's not a big deal if placing foot entirely on it.
The presser foot pressure is good for beginners by default, but it's possible to adjust it to more advanced sewers liking. The machine comes with four feet choices that's not much but allows starting all common tasks instantly.
This model has extra-high presser foot lifter to enhance clearance when working on several layers of fabric simultaneously.
It is quiet and doesn't shake or rattle.
No automatic stop that makes it a bit difficult for beginners to make a buttonhole.
It's light and that's' why it moves when pushing the heavy stock through it.
The case isn't ergonomic enough. It fits to store the machine in a room, but it's better to get a universal carrying case to move it in a car.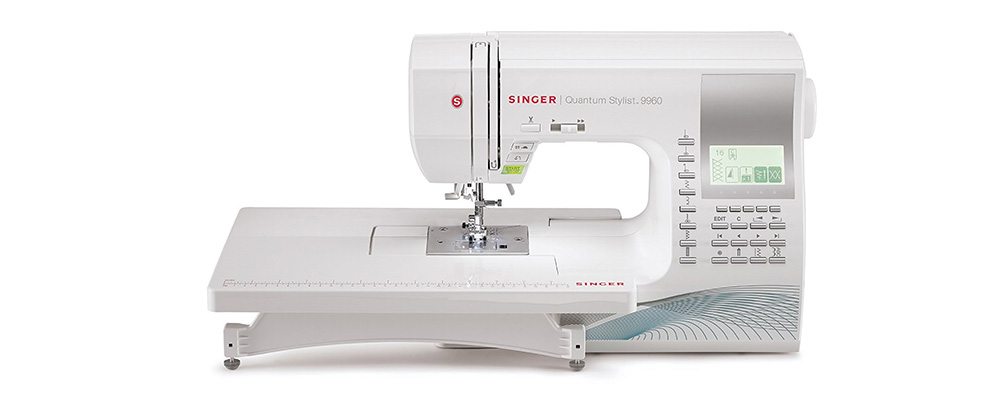 While looking for a good sewing machine for beginners, take into account the computerized model that is developed for both a newcomer and a pro. Its automatic features let the beginners escape adjustments and intuitive design facilitates learning. On the other hand, such customizable sewing tools as 19 different presser feet allow handling creative and complicated projects in future without a machine's replacement. However, its 6.5-inch throat makes quilting and other large-scale projects cumbersome.
The machine stands out from other models with its 600 styles of stitch patterns and high speed of operating (850 stitches per minute). It has 13 different buttonhole styles and the ability to attach a button in a second that helps create different types of clothes. Besides, the set of extras includes a twin needle for hemming. Such specs as automatic thread cutter, needle threader, and tension control provide the continuity of the process of sewing and high efficiency, as a result.
Certainly, because of so many options, this model is not portable and requires stationary use.
Free-arm sewing allows getting to the hard-to-reach areas.
The adjustable feed dogs provide swing in any direction without limitations.
Extension table to ensure more space when it's necessary.
No opportunity to use the quilting bar with the walking foot.
Buyers Guide
Tips on Using Sewing Machine for Beginners
How to use a sewing machine for beginners? All the models listed above have detailed manuals and DVDs with instruction. In addition, check the following advice.
First, it's necessary to learn all the parts of a machine. Then, make upper threading at the top of the machine starting from the spool and continuing up to the bottom where the needle is installed.
Make lower threading taking into account the type of the bobbin (whether it's top or front loading model). Connect lower and upper threads and take a piece of fabric to test a machine. Then, follow the next steps:
Put the presser foot up.
Move the yarns to the back.
Pull the presser foot down.
Hold threads at the start.
Use reverse several times to fix threads.
Start stitching and use reverse again at the end.
Bear in mind that the nuances of the process are dependable on the machine's types and models. For example, the manual items are clear but need some adjustments that aren't always easy. In turn, the computerized machines are straightforward to use but can be overwhelming in terms of the numerous functions.
How to Choose a Credible Sewing Machine
To make an educated decision, one should remember the following features that deal with not only functionality but also quality criteria of any sewing machines.
Some models feature 25 years limited warranty and have a separate warranty on the motor. Such engines are usually powerful and reliable.
Consider the portability, if it's necessary, take it to class and place it anywhere in your room while there's still a lack of workshop. Pedal cord length is also crucial with regard to placement.
When thinking of the number of options, focus on a variety of projects. If you sew drapery, cloth, do embroideries and make crafts at the same time, it's rational to grab the model with tons of opportunities.
Think of types of materials before purchasing a machine because even products with plenty of stitches can struggle when sewing leather, twill, silk satin or some other thick or delicate fabrics.