Best Sewing Machines for Advanced Sewers — Top Models Compare
Title
Singer Quantum Stylist 9985
Singer Quantum Stylist 9960
Built-in stitches quantity
Automatic needle threader
6 Sewing Machines for Advanced Sewers Review
If you have already performed several sewing projects and realized you need an advanced machine, that means you scored a new level. If you decide to take on this challenge, the best sewing machine for advanced sewers is a must-have. You're likely to get more workload and diversify your projects with new tasks like intrinsic stitching lines or the art of buttonhole sewing. Whatever your goal is, a higher-level sewing machine will undoubtedly assist you in achieving it.
When selecting your new machine, pay attention to its durability and material. If you plan on working a lot, you'll need the most stability and the least amount of vibration and hum. Check to see if the machine is capable of performing the task you intend to assign it. You may not need a sewer to stitch leather and wool, but you will benefit from a fast machine with a large stitch library that can work on delicate fabrics. On the other hand, if you anticipate routine work with a significant load, you may be willing to forego the variety of fonts and programmable features in exchange for high speed and heavy duty construction. Set your sewing priorities and opt for the sewing machine with advanced options!
Advanced Sewing Machine Reviews
If you foresee a lot of sewing projects on light and semi-thick fabrics, the Brother CS7000i might be the solution. It applies multiple stitch types, offers speed regulation, is computerized, quite fast, and precise, so it can potentially become the best sewing machine for advanced sewers. Still, it wouldn't be the optimal choice for frequent sewing on thick fabrics like denim, though it can be used for that on occasion.
The machine is easy and quick to set up and start using. Its construction and many applied mechanisms are simple, and it's easy to reach any part to fix the problem. It has an open top bobbin seat, clear engraved instructions for winding the thread, and an automatic threader function. There are 70 stitches types to choose from, several of which can be applied on fine fabrics like satin. For non-programmed simple embroidery, there are several decorative stitches available.
The maximum speed is 850 stitches per minute, which is a good result. Even at this speed, the machine operates quietly and steadily, with no shaking or heating issues. An opportunity to control the speed is another feature of this advanced sewing machine. With a slider on the right side of the machine, you can limit the limit to three positions. Besides, for sewing on delicate fabrics, you can adjust the speed manually using the handwheel or by adding an optional foot pedal.
The feed dog mechanism drops automatically.
Stitch icons are engraved on the body for a quick reminder.
A large table, free arm, bobbins, presser feet, and maintenance tools are included.
When compared to other stitches, the final stitch loop is occasionally larger.
Needle positions are limited to the left and straight (no right directed option).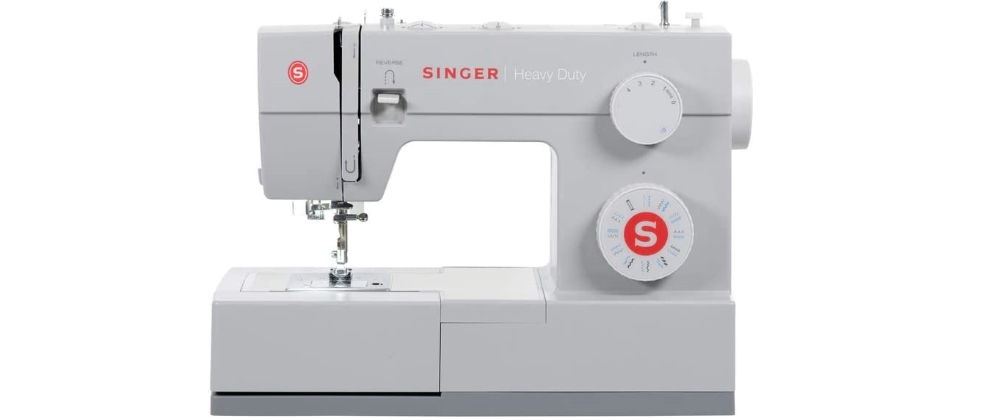 The 4423 model is appreciated for its metal frame, quiet and steady performance even at maximum speed (1,100 stitches per minute). While it is simple to maintain and operate, it can handle a large number of projects and does deserve to appear among the picks for best heavy duty sewing machine for advanced sewers. Its assortment of stitch types might be less than that of many competing models, but it's reliability and convenience compensate for that.
The machine offers 23 stitches, with the option of adjusting the width and length of the stitch. You can also choose a stretch stitch type corresponding to each main type you've chosen by turning the relevant regulator. These stitches are depicted on the machine's body, the main stitches painted black, and the stretch stitches painted blue.
The presser feet supplied with the machine are basic, but they will suffice for the majority of heavy-duty sewing projects. There is a zipper foot, a buttonhole foot, a universal foot, and a button sewing foot. Quilting on thick fabrics like upholstery or buttoning denim pants and shirts is a breeze with these feet. Even a backpack zipper sewing takes little time. The Singer 4423 is quite easy to thread, while it's automatic threader is somewhat finicky and can split the thread end. Aside from that, this sewing machine for advanced sewers will definitely fit any basic sewing project you have in mind, as well as a heavy workload.
It's easy to watch the bobbin through the transparent plastic cover and replace it when the thread is over.
The thread tension can be adjusted using the dial on the machine's top.
The reverse stitch lets you finish the seam accurately.
There is no thread cutter mechanism.
The foot controller is a bit over-responsive, and it requires time to get used to it.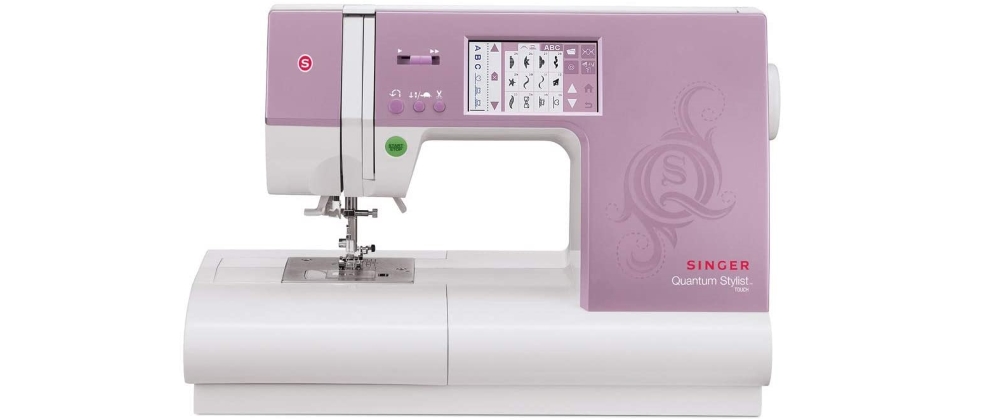 If you're in for several different sewing projects and need as much automatization and convenience as possible, consider the Quantum Stylist 9985. It's quiet and precise, offers around 1,000 stitch styles, lets you program operations via the color touch screen, and is simple to set up. Considering it's middle-tier price, it can definitely be listed as the best high end sewing machine for advanced sewers. Still, while this sewing machine can work on heavy fabrics such as velvet and wool, it requires special attention for such operations. You'll have to slow down and watch the needle and the seam closely in order not to tear the thread and have an accurate seam. The good news is that the built-in light is bright and covers a large area, allowing you to see everything in real-time.
The machine is computerized and lets you select the stitch you need and its specs (width up to ¼ inch). You can fulfill a variety of projects using 10 basic, 21 stretch, and 919 decorative stitch styles. One can also make a stitching ornament and then mirror it by pressing the dedicated button on the machine. Besides, you can amend the length of your stitch by pressing the elongation button.
This sewing machine for an advanced sewer lets you set the operation speed with the slider onboard. The fastest it can go is 850 stitches per minute. It has a sensor checking the foot position and not letting you start sewing when the foot is raised. By the way, the assortment of feet supplied with the 9985 model is quite versatile. It includes a ¼-inch foot, a satin stitch one, a zipper foot, and many others.
A presser foot is swapped in seconds thanks to the keyless mechanism.
The bobbin is threaded automatically.
A memory function lets you continue your sewing with the same stitch style/alphanumeric font that you used before.
Due to the slight size difference, it does not work well with non-Singer bobbins.
The decorative stitches appear a little thin, and some of them are difficult to see.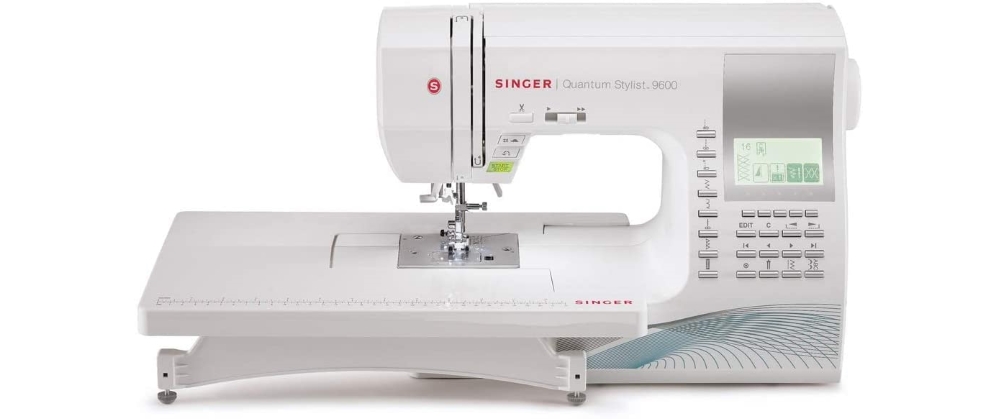 Pro sewers who deal with the sewing-and-embroidery projects will enjoy this Singer advanced sewing machine. It's customizable, has a programming module, and is simple to set up and use. It offers multiple types of stitches and yet more combinations and is capable of working on multiple fabrics, including thick ones.
The operation of this machine with an all-metal frame is steady and exact even at a maximum speed, and that's 850 stitches per minute. The speed can be adjusted by the slider or regulated via the foot controller/handwheel. The machine features a Start/Stop button letting you additionally automatize the operation. It can produce 150 stitch styles, and this number is multiplied by the mirror and elongation functions. Besides, you can program a row of up to 5 stitches or create a combination of a certain style and the alphanumeric font. There are 5 font styles as well.
Searching for the best sewing machine for experienced sewers, always pay attention to the safety factor. The 9960 model scores many points by this criterion. This machine won't let you sew with the foot raised, thanks to the built-in foot position sensor. Another sensor stops the operations once you've run out of thread or a thread got torn. The feed dogs move by the rectangular trajectory and stop once a malfunction is detected. The feed mechanism can be dropped in order to enable the free motion stitching.
The length and width of a stitch are programmed by default but can be adjusted manually.
The twin needle mode prevents the use of incompatible stitch styles and possible needle damage.
Precise buttonhole stitching using any of 15 button styles.
Programming the stitches takes time to get used to; the stitches are grouped in blocks in the computer menu.
The walking foot does not fit the extension table, limiting quilting options.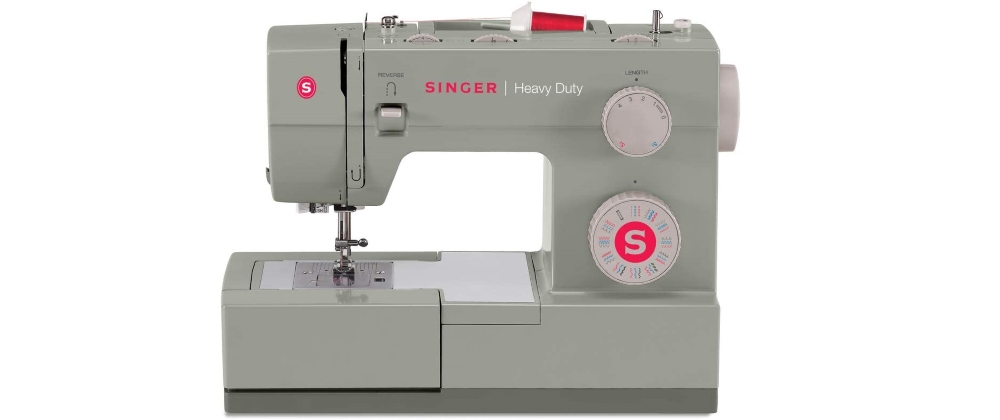 The variety of stitch styles employed in the 4452 model is less diverse than on many of its competitors. However, when it comes to the precision of the basic stitch lines, it leaves many of them behind. The enhanced motor and a sturdy frame make the 4452 suitable for a heavy workload with the thick fabrics. At the same time, it isn't computerized, and some complex projects might require time and effort to be performed.
The appearance of this sewing machine makes it simple to keep an eye on it while it is in use. It has an open top so that you can see the spool and check the thread tension (it can be adjusted with the dial on top). Multiple knobs let you choose the type and the width of a stitch (the basic or stretch styles) and control the position of the needle between the left, vertical, and right positions. The thread cutter and reverse stitch levers let you finish a seam without messing the thread.
The speed of the 4452 can reach 1,100 stitches per minute. The ability to perform heavy projects is provided by the accessory kit supplied with the machine. The latter features 6 presser feet, including the non-stick one for working on leather, the clearance plate letting you deal with the thick and multi-layer fabrics, and a set of leather needles. A large extension table and a variety of top-and-bottom stitches make this sewing machine for an advanced sewer fit for complex quilting projects as well.
The machine is very stable and does not vibrate.
Threading is quick and intuitive.
The foot can be levered very high in order to deal with the folded thick material.
The machine starts a bit too fast and doesn't fit for performing curves at the start.
It doesn't accept large industrial spools.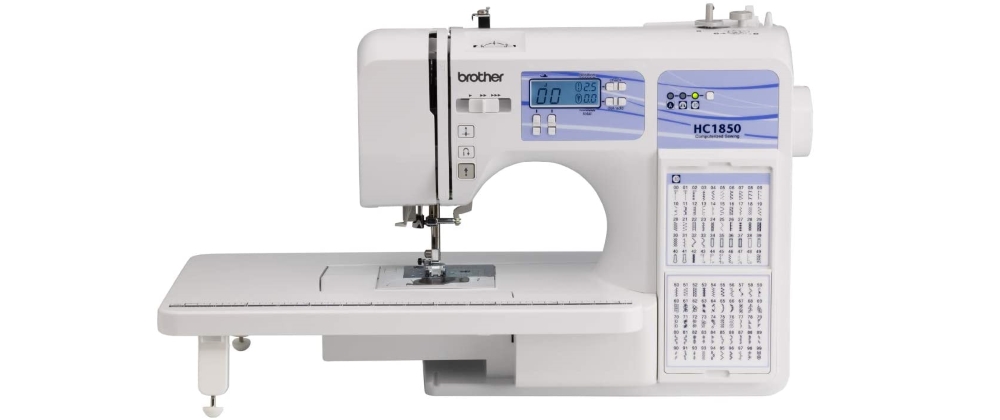 The HC1850 model provides several customization options letting you select multiple stitches, buttonhole styles, and even monogramming sewing. It can be programmed via the LCD screen and is easy to use both for beginners and advanced sewers. That's why this model can well be called the best advanced sewing machine. Still, it is not a heavy-duty machine capable of sewing through stacks of fabric on a daily basis.
The maximum speed available on the HC1850 is 850 stitches per minute. The speed is adjustable via the slider on the front. The machine is supplied with 8 presser feet letting you sew on multiple types of fabric, including satin and denim. It has 8 buttonhole stitch types, 122 basic and decorative stitches. The stitch type and dimensions can be programmed on display, where you'll also find a recommendation as to the presser feet that'll fulfill your task. The machine also offers a single font with 55 symbols including all letters, digits, and basic punctuation marks.
The HC1850's auto options propel it to the top of the list as the most advanced sewing machine for light-duty projects. It features a developed needle threading mechanism and a smart bobbin holder preventing thread jams. The feed dogs mechanism works evenly, ensuring a stable stitching line, and can be removed if you want to sew free motion.
A quilting foot, 14 specific stitches, and the extension table cover the majority of regular quilting tasks.
All of the stitch icons are displayed on a flipchart to the right of the machine.
The navigation buttons to the right and under the display are grainy and well recognizable by touch.
Thread tension is regulated manually by the top dial and requires time and several tries to get used to.
The light is not bright and is obscured by your hand as you thread the needle.
Buyer's Guide
The Main Features of Sewing Machines for Advanced Sewers
While each model has its perks, there are features that are considered a must-have in the advanced sewing machine. They are control elements letting you regulate the various parameters of the machine's performance like speed, stitch type, dimensions, etc. Other necessary features include a big throat, auxiliary accessories like an extension table, and different presser feet. There are also convenient mechanisms (mainly automatized options) that let you shorten the time you spend on your work or increase your productivity.
Built-in Stitches
The advanced machine should offer more options than a basic model. However, the number of stitch styles can be as little as 30. With many high-level machines, this number is doubled or even tripled due to the mirroring and elongating capabilities, as well as duplicating the stitch style for making a stretched stitch.
Automatic Buttonholer
The majority of the best sewing machines for advanced sewers feature a buttonholer option with an automatically set pace. Some machines let you select up to 13 buttonhole styles and regulate the distance between the seams. With many advanced models, buttonhole presser feet and a bottom platform are included as well.
While many sewing machines with advanced options feature an autopilot function with an adjustable speed limit, a foot pedal remains the inseparable element of a sewing machine. It allows you to free your hands while still controlling the speed. Check the pedal's responsiveness (it shouldn't be either dumb or too sensitive) and always use a mat to prevent slipping issues.
Feed Space
Working on large fabric pieces frequently is impossible without the feed dogs. These transporters move the cloth at a pace proportional to the speed of the needle. The precisely set feed dogs help you automate the process and work on your projects faster. However, for some projects, manual fabric position regulation may be required. In this case, you can use a special lever to drop the feed dogs or simply cover them with a plate.
Needle Threader
There are no sewing machine reviews for an advanced sewer without the description of a needle threader. An automatic threader can be a time-saving appliance, especially for those sewers who are short of sight. However, it turns out that in many sewing machines, such mechanisms are finicky and split the thread end. Still, it's worth learning, as this feature is helpful for large-scale projects with a frequent need for rethreading.
Free Arm
Many machines developed for advanced sewers have a free arm. This smaller table that doesn't touch the surface lets you sew on the tubular or rounded objects like shirt collars, cuffs, etc. A free arm is usually built-in and gets uncovered when the main working plate is removed.
Sewing Speed
A high sewing speed lets you perform regular projects faster. The best sewing machines for experienced sewers have a high stitch-per-minute rate, with the upper limit ranging from 850 to 1,100 stitches per minute. Still, for sewing on too thick or too delicate a material, slower speed can be safer and more efficient. That's why it's important to have an opportunity to control the speed, automatically or manually.
Extension Table
When you sew a curtain or a blanket, an extension table can be of great assistance. It allows you to keep your working area straight without having to fold the fabric multiple times. It also helps you see the stitch line for its length and regulate the performance in real-time.