Janome Sewing Machine — Best Buying Guide
Built-in stitches quantity
Automatic needle threader
Janome Sewing Machine Guide — Best Models Comparison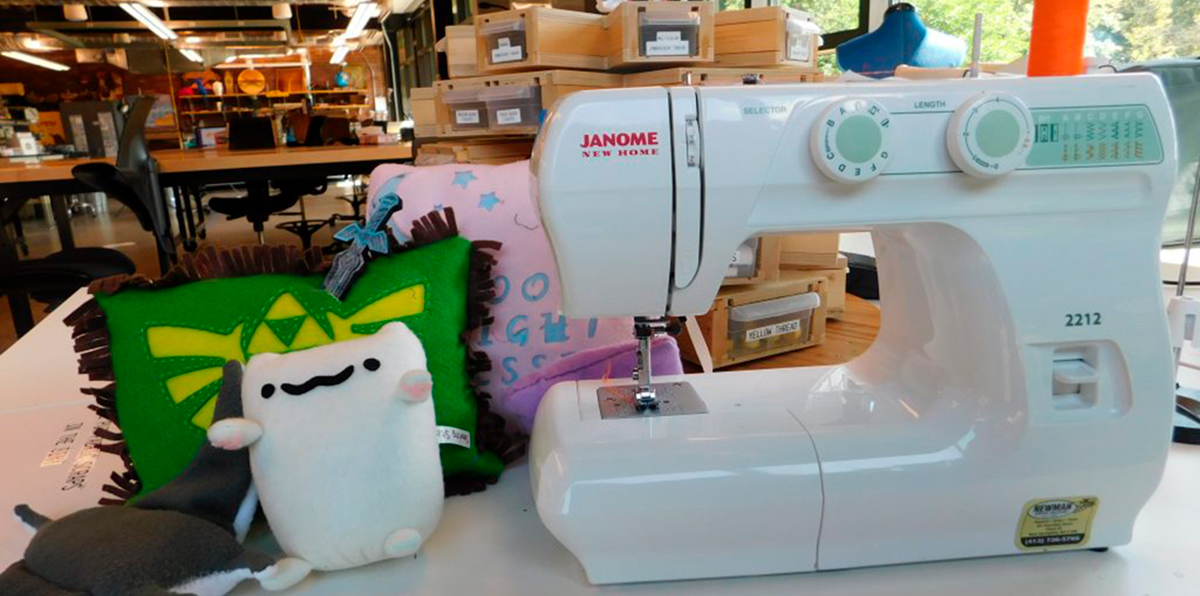 Janome sewing machines are one of the most popular products on the market. The company offers high-quality models with an abundance of features at a reasonable price. The brand has totally different products, so everyone from the novice to skilled sewers can find what they are searching for in the Janome sewing machine models.
Since 1979, when the company issued its very first computerized sewing machine, it keeps on presenting innovative, adapted to modern technologies machines almost every year, growing in popularity. Now, Janome offers sewing, embroidery, and quilting machines.
We have made this Janome sewing machine review to compare the most sought-after models from this popular brand. What do these sewing machines have to offer? How much money will it cost you to get one? In order to find answers to these questions, keep on reading the following test results.
Stitches
There are many Janome sewing machine models that offer hundreds of various stitch designs. Sometimes, the number of stitch designs exceeds 500. Such models give you nearly limitless sewing possibilities for designers, advanced sewers, and people who want to experiment with designs. There are also models that allow customizing stitch design, which may be just what demanding sewers need. Janome also has many models with a built-in alphabet that allows you to quickly and neatly label your projects.
However, not every sewer requires such a large number of stitch applications. For them, Janome offers machines with 12 to 18 simple built-in stitches. They are perfect for people learning how to sew or just for basic needs.
Almost all the models from Janome allow controlling the lengths and width of the stitch. Some machines have a dedicated button for locking the stitch, which appears to be a very user-friendly feature that is uncommon in other brands' models.
If you are looking for a Janome sewing machine with a variety of stitch designs, look no further. The Janome 4300QDC-B with 300 built-in stitches may be the model to impress you. The Janome 2212, on the opposite, offers only 12 stitches.
Thus, the Janome 4300QDC-B is an obvious winner in this category.
Our pick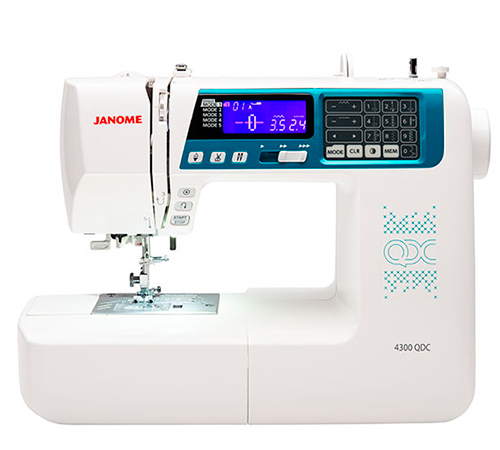 The best stitches
300 built-in stitches
LCD screen
One-hand needle threader
7-piece feed dog
Locking stitch button
Memorized needle up/down
7.2 x 16 x 17.7 inches and 22.4 pounds
Portability
In terms of portability, sewing machines from Janome can be divided into 3 categories. The first category includes the models that weigh no more than 15 pounds. They are exceptionally compact, measuring approximately 8 x 16 x 13 inches. Such models are portable but simple, and typically lack specific functions. Pick a Janome sewing machine like this if you want to learn how to sew.
The models in the second category are those who weigh more than 15 pounds but don't reach 20 pounds. These medium-sized machines are typically used at home and are not frequently transported. They are usually sized at around 18 x 10 x 14 inches.
The third category includes the models that weigh more than 20 pounds usually have a plethora of features, including a heavy-duty metal frame. Their dimensions are around 19 x 12 x 16 inches. Such machines just can't weigh less due to their sturdiness.
The Janome MOD-50 is a great representative of the most lightweight and portable sewing machine Janome. It weighs 12.7 pounds and measures 7 x 16 x 12 inches. The Janome 4120QDC, on the contrary, appears to be one of the heaviest (22.4 pounds) and largest (19.8 x 12 x 16 inches) models.
So, as for portability, the Janome MOD-50 is the best choice.
Our pick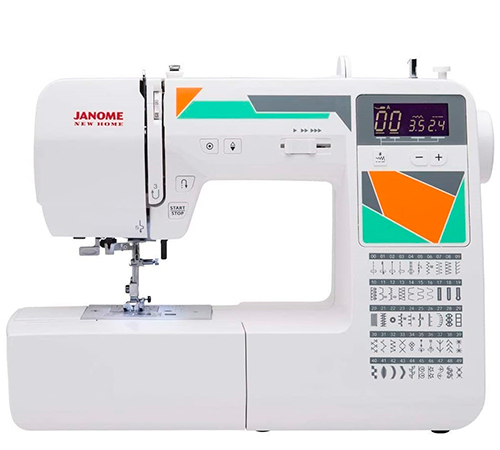 The best portability
200-stitches including alphabet
3 one-step buttonholes
One-hand needle threader
LCD display
Free arm
50 character memory
7-piece feed system
Features quantity
The Janome sewing machine ratings are high namely owing to the abundance of useful features provided by this manufacturer. The most advanced models from Janome have megabytes of internal storage memory, can be wirelessly connected to your smartphone and PC, give you the possibility to create your own stitch designs and work with the modeling software, and are equipped with color touchscreens.
In general, Janome doesn't provide basic models with only one or two controls and functions. The simplest machines have at least 4 of them: stitch selection, stitch length and width adjustment, reverse stitching, and a 4-step buttonhole.
Averagely, Janome models have a stitching speed of 1000 SPM, giving you the opportunity to sew quickly. Plus, many machines have automatic functions that can be triggered with just one press of a button. Mostly, even the cheapest models from the brand are automatic. In this regard, their products outperform many of their competitors.
Skilled crafters that want a feature-rich Janome sewing machine will probably benefit from the Janome 4120QDC. This model has an LCD screen and numerous handy buttons, a thread cutter, 120 built-in stitches, a 7-piece feed dog, and dozens of other features. The Janome 7318, on the contrary, has just 18 stitch designs, reverse stitching, and the ability to control stitch lengths.
The Janome 4120QDC wins here because it provides much more features than the Janome 7318.
Our pick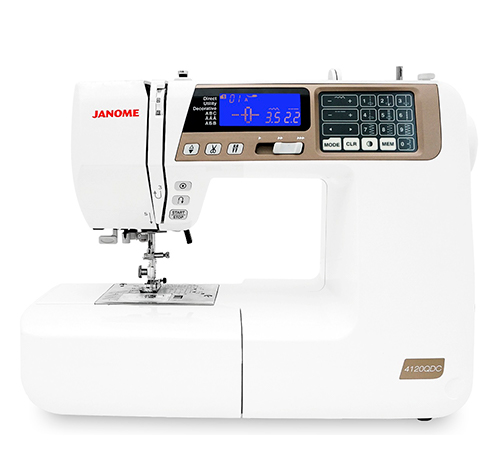 More features
120 built-in stitches
7 one-step buttonholes
One-hand needle threader
7-piece feed dog
Free arm
LCD screen
Drop feed
Accessories and attachments
When it comes to accessories, Janome's generosity is difficult to overestimate. The vast majority of Janome sewing machine reviews admit that the company provides more than enough accessories and attachments. Furthermore, almost all models include a DVD with visual instructions on how to use each machine feature.
The cheapest model includes at least 8 accessories (a few presser feet, an extra spool pin, a seam ripper, a screwdriver, a set of needles, etc.). Speaking of the expensive models, Janome ships them with additional bobbins, accessories for quilting, a hard case for storage, from 10 to 15 presser feet, spool holders, and many other additions. This frees you from the necessity to buy extra accessories when you want to expand your creativity borders and try some new sewing techniques.
The Janome 2212, one of the cheapest models in the lineup, has 8 accessories (3 bobbins, 4 presser feet, and a seam ripper). The Janome 4300QDC-B, the expensive one, comes with a quilt kit, 7 presser feet (including unique ones such as the satin stitch foot or overcast foot), several spool holders and bobbins, and many other useful additions.
If you are willing to pay a high price for a Janome sewing machine that comes with a decent number of accessories, the Janome 4300QDC-B may be your best choice.
Our pick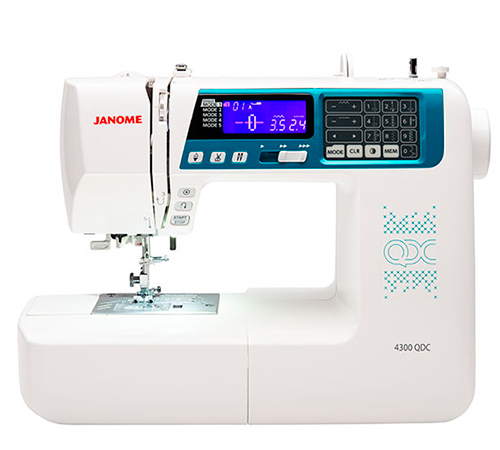 More accessories and attachments
300 built-in stitches
LCD screen
One-hand needle threader
7-piece feed dog
Locking stitch button
Memorized needle up/down
7.2 x 16 x 17.7 inches and 22.4 pounds
Durability
In this part of our Janome sewing machine comparison chart, we explain how robust the machines from the brand are. They usually come with a 25-year warranty on mechanical parts and 5 years on electrical parts. As it's claimed by the company, all machines are durable enough to last for a lifetime. Frankly speaking, it would be quite a difficult task to try to find the Janome sewing machine reviews that report about some models being fragile.
Nevertheless, of course, cheap models cannot be as durable as more expensive ones. Small, portable models usually have a convenient plastic case and controls except for a metal frame and bed plate. A good example of such a model is the Janome 2212. It's solidly built but can't compete in sturdiness with models like the Janome HD 3000 BE, for example. This heavy-duty model has an all-metal frame and a powerful motor that can withstand large amounts of load every day.
So, the Janome HD 3000 BE is one of the most durable models that the brand can offer, so it wins in this part of the review.
Our pick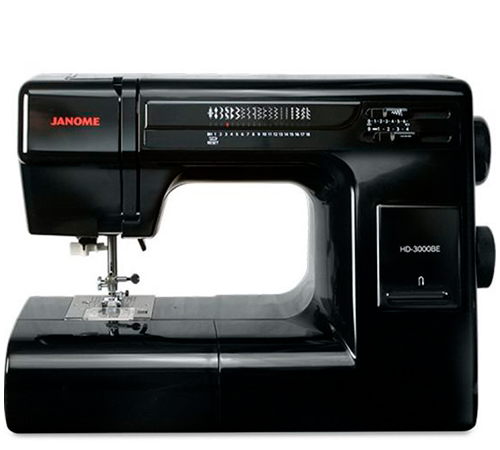 Best durability
18 built-in stitches
5-piece feed dog
Free arm
Drop feed
Automatic buttonhole foot
Extra high presser foot lift
Foot pressure adjustment
Price
Since Janome doesn't produce basic models, the Janome sewing machine prices start from $200. It's more expensive than machines offered by other less-known brands, but it is less expensive than many of Janome's direct competitors on the market. If you want an advanced Janome product, be ready to pay at least $600.
The sewers that look for the cheapest Janome sewing machine will benefit from a model like the Janome 2212. Those who want a modern model with numerous advanced features at a high price should consider the Janome 4300QDC-B.
The Janome 2212, offered at a budget price, wins in this category.
Our pick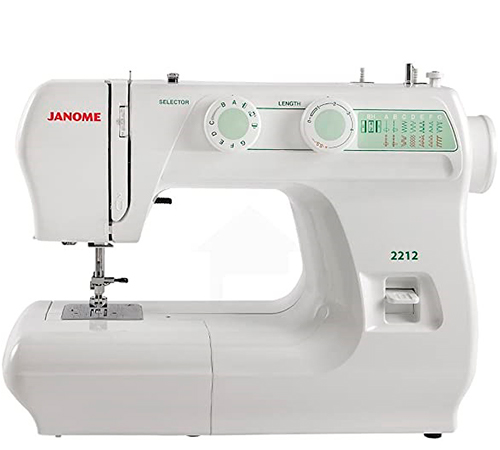 The best price
Free arm
Drop feed dog
6 built-in stitches
5-piece feed dog
Extra high presser foot lift
Snap on Presser Feet
One touch stitch selection
Conclusion
In this comparison, we demonstrated that the Janome sewing machine models list is wide and can satisfy the needs of most sewers. Janome is known for producing innovative yet affordable sewing machines. This way, I feel confident recommending its products for sewers that have different skill levels.
So to answer the question "Which Janome sewing machine to buy", consider your sewing needs, and you will most likely find the ideal model among the brand's offerings.