Janome 3160QDC: Lightweight But Durable Machine with Complete Accessory Set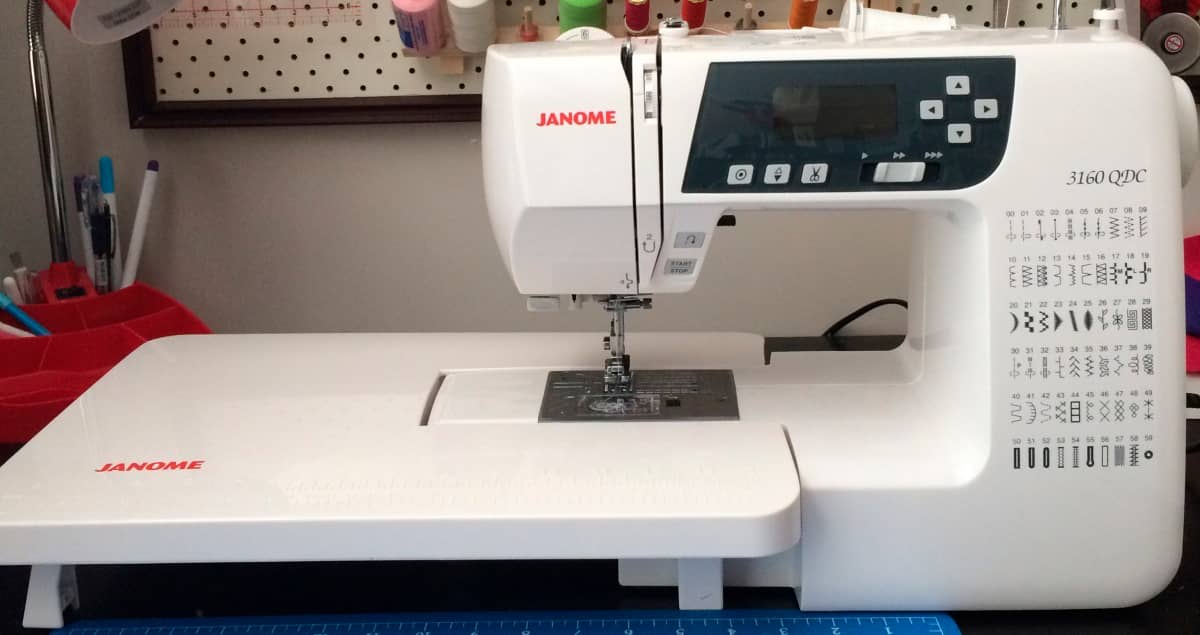 Quilters, novice sewists, and anybody looking for a portable yet multipurpose machine would like the Janome 3160QDC. It isn't a cheap option, but the extensive accessory set and wide range of functions make it worthwhile.
Dimensions
The machine has a considerable weight of 12.6 pounds. It has 15 inches in width, 8.4 inches in height, and 16 inches in depth. The work space measures 6.8 x 4.5 inches.
Features
The Janome 3160QDC is regularly pitted against the Janome DC1050. For real, these machines are very similar, but the fact is that the 3160QDC has more features. This machine lets you choose between 60 built-in stitch designs and 6 buttonholes. Except for basic and zigzag stitches, there are a lot of decorative stitches. They are suitable for different complicated projects. In addition, you can use the reverse stitching option to make your stitches stronger and more dependable.
The machine's maximum speed is 860 stitches per minute. The speed control pedal is precise and sensitive, although the speed can also be controlled via a special slider. Note that it wobbles a bit at top speed. However, a rubber grip mat placed under the machine can resolve this issue.
Threading is easy, as is winding a bobbin. This machine has a drop-in bobbin system that lets you wind a bobbin easily in under a minute. The automatic needle threader permits you to thread the needle quickly without straining your eyes.
The motor is powerful enough to allow the Janome sewing machine 3160QDC to go through thick fabrics like denim or suede. Besides, the machine sews smoothly, and the quality of stitches is excellent.
It comes with 7 presser feet, a needle set, an extension table designed for large projects, a hard cover for storage, and other accessories. The included Janome 3160QDC manual is easy to follow, so you will be able to start using the machine right after the purchase. In order to convince their customers that this model is durable and reliable, Singer ships it with a 25-year warranty.
The machine's functions make it a truly versatile machine. That is why it gets a 9 out of 10 from me in this category.
Design
The Janome 3160QDC sewing machine is controlled mostly by buttons (apart from the tension control dial). Most of them are located near the LCD display. There is a thread trim button that cuts both the lower and upper thread, a stitch lock button, and buttons that allow you to select the stitch pattern, its width and length. The display is backlit with blue light and has large, well-visible inscriptions.
The machine is white and has a matte finish. The needle plate is made of stainless steel. The stitch pattern designs are printed on the front panel, making it simple to choose the one you require.
Janome always makes machines with an understandable, friendly design, and this model isn't an exception. That is why the overall rating for the design is 9/10.
Conclusion
Summing up this Janome 3160QDC review, it's fair to say that many craftsmen would be delighted to have such a machine at their disposal. It offers a wide range of stitch patterns, an automatic needle threader, and an LCD display. It also comes with a rich set of accessories that would be expensive to buy separately.