Brother LX3817A: Easy-To-Use Sewing Machine for Novices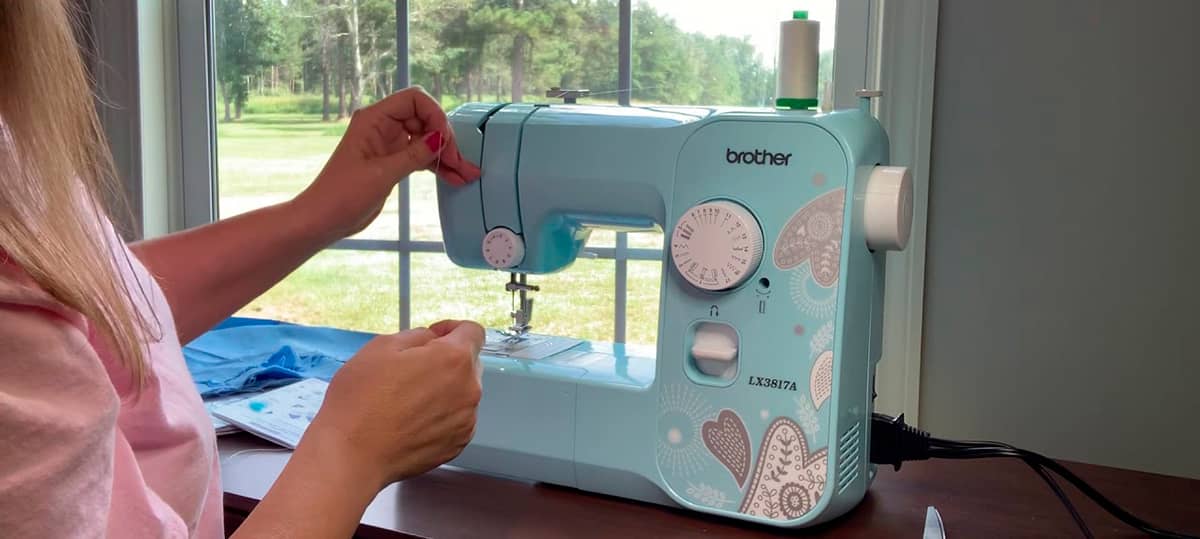 Being an inexpensive and minimalistic model, the Brother LX3817A is still able to meet most sewing needs of those sewers that don't search for anything fancy. Because it lacks sophisticated functions, this sewing machine is a fantastic choice for beginners.
Dimensions
The machine measures only 17.7 x 14.1 x 7.6 inches, so it's compact and easy to transport. Weighing only 12.9 pounds, it's so lightweight that it can easily be carried in one hand. The bed space is also not very extensive, being sized at only 5.5 inches.
Features
First of all, the Brother LX3817A is a quiet machine that works smoothly. Only the bobbin may get noisier when it unwinds. It will be very useful when you need to quickly sew tons of face masks or other small items, stitch fabric pieces, etc. While it's ideal for minor tasks, it's not the best option for big projects. It's simply too little and ineffective for that. I also don't think that its motor can handle thick fabric and denim even if you use a heavy-duty needle.
The LX3817A is fully assembled and ready to sew right out of the box. It has a jam-resistant drop-in top bobbin and a handy thread cutter located on the side. The free arm makes it easier to sew small clothes.
The machine's maximum sewing speed is 850 stitches per minute. I would like it to have some kind of a sewing speed regulator since the pedal is hard to press. Among the Brother LX3817A specs, you also won't find an automatic threader. The stitch length also can't be regulated.
There are only 17 built-in stitches, and that is enough if you don't need a sewing machine for decorative work. The Brother CX155LA is more suitable for this purpose, although it's very similar to the LX3817A in terms of design and user interface.
The Brother LX3817A 17-stitch machine ships with a 25-year limited warranty. It comes with a CD with an educational video that will assist you in quickly learning how to use the machine. The kit also includes a few handy items such as extra bobbins, 3 presser feet, and a pack of needles.
The machine has a restricted set of capabilities, yet it is simple to operate. As a result, I'll give it a 7/10.
Design
The sewing machine comes in a cyan color that, as for me, looks very nice. It has gray heart prints on the right side of the chassis. Despite its toy-like appearance, the machine is built very sturdily. Most of its parts are made of metal. It doesn't have any buttons and screens—only a stitch selection dial, reverse sewing lever, and upper tension control dial. The needle height of the Brother LX3817A can be varied using the handwheel, located on the right side. There is also a separate storage space for accessories that can be found inside the bed attachment.
The design of this machine is intuitive and clear. So, it wins a 9/10 score.
Conclusion
This machine may seem too basic for sewists who know how to work with more complicated models. Nevertheless, it's definitely built to last, although it doesn't have some automatic features that most other similar machines can offer. However, if you really want to learn how to use a sewing machine, you have to know how to do these things manually. So, concluding this Brother LX3817A review, I can recommend this machine for beginners and sewists involved in small projects.