Roomba 677: Smart Multisurface Robotic Cleaner with App Control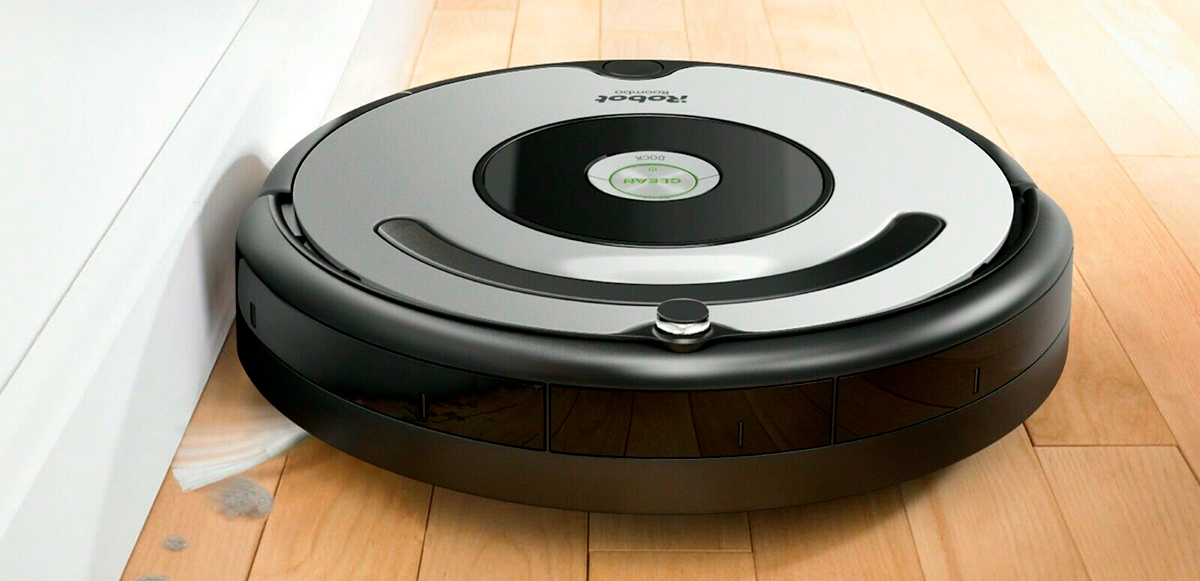 The Roomba 677 review refers to the robotic vacuum that is primarily designed to meet basic needs. It doesn't offer anything exceptional, but, for a reasonable price, it can provide scheduled cleaning.
Dimensions
The cleaner has a diameter of 13.3 inches and a height of 3.6 inches. This way, it's compact and slim. The dustbin has an average capacity of 500ml. The unit weighs 7.8 pounds, so can be easily carried around.
Features
The iRobot Roomba 677 belongs to the lower end of the Roomba line. It uses the first version of the iAdapt navigation system (unlike the Roomba 960, for example, that uses the second one) and has quite simple features.
This bot can be controlled by the iRobot Home app on your mobile device. Apart from basic control, it will also give you information about the cleaning processes, charge level, when to change the filter, etc. You also can schedule cleaning using this app.
It's also supplied with Alexa and Google Assistant compatibility. However, you won't get full control over the unit using voice assistants: you'll only be able to start, stop, pause, and resume the cleaning process.
The navigation system of this cleaner is conventional. The iRobot Roomba 677 Wi-Fi-connected robotic vacuum moves in a random pattern, so it doesn't cover the whole floor surface and just can't find the dock sometimes. Nevertheless, it's provided with a full array of sensors that keep it away from stairs, walls, furniture legs, and so on.
This model is advertised as a multisurface one but, in fact, it may get stuck in front of a thick carpet or consider it as an obstacle. Also, the suction power of 600 Pa is insufficient to handle long-pile carpets.
The Roomba 677 robot vacuum uses dual multi-surface brushes that consist of bristles and rubber, as well as a side brush. The last one is designed to clean along the baseboards, edges, and corners of the room. The main brush works great: it uses bristles to sweep the floor and rubber to "stick" the dirt to itself, and then suck it in the cleaner's dustbin. The motor has only one speed, so no Eco or Turbo modes are provided. However, the unit does have a Spot cleaning mode.
This model doesn't come with a HEPA filter, so it won't give you superior allergen protection. It employs a standard filter that is lower in price but isn't very effective. It simply captures tiny particles and purifies the air.
The cleaner is powered by an 1800 mAh lithium-ion battery. It provides a runtime of 90 minutes which is enough to clean the 1500 sq ft area on one charge. The battery requires up to 3 hours to charge in full.
Although the cleaner has some significant performance issues, it cleans well. Thus, I estimate it at an 8/10.
Design
The iRobot Roomba 677 has 3 local controls:
start the cleaning cycle;
activate the Spot mode;
send the unit to the charging dock.
They all are located in the very center of this round-shaped device. It's made of plastic and combines black and silver colors in its design.
The unit is simple and easy to use. This way, I give it a 10/10 for the design.
Conclusion
This iRobot Roomba 677 review can be a recommendation for those people who are tight on a budget but still want a decent robotic cleaner. This bot, on the other hand, has some navigation issues, so keep an eye on it.