Roborock S6 MaxV: AI-Based Robotic Cleaner with 2500 Pa Suction Power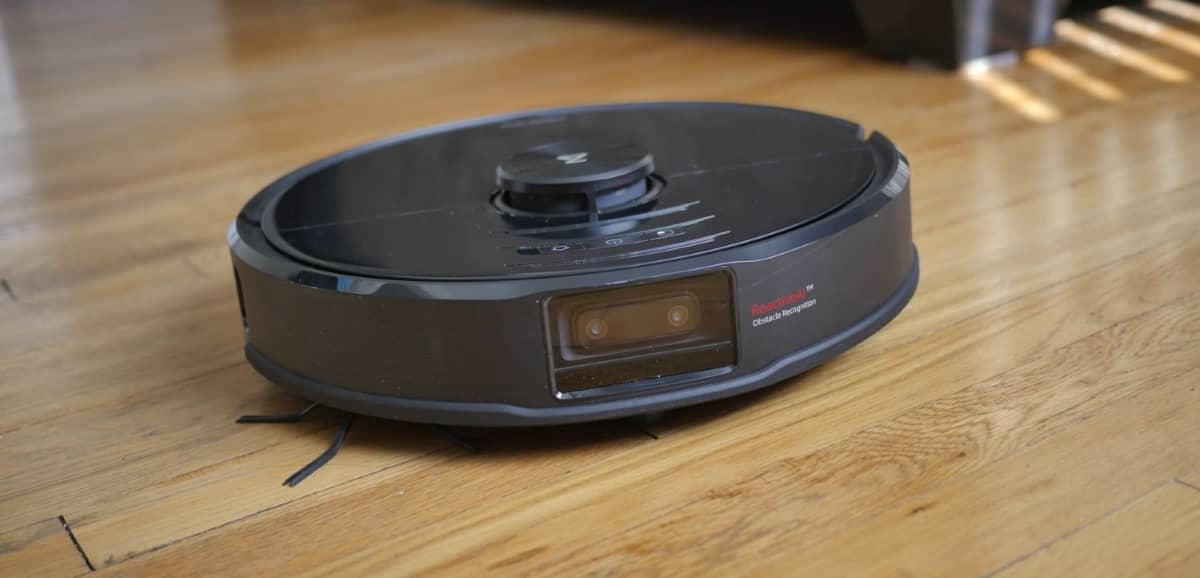 The Roborock S6 MaxV is a unique robotic vacuum cleaner that is driven by AI. Thanks to this feature, the vac creates a very accurate map of your floor and avoids all the obstacles in its path instead of bumping into them.
Dimensions
The cleaner measures 19.2 x 16 x 6.1 inches. Apparently, it will most likely have difficulty sliding under some furniture in your house. On the other hand, thanks to such dimensions, it easily gets on carpets and passes over the thresholds. The weight is also significant—13.98 lbs. Inside, it incorporates a 290ml water tank and a 460ml dustbin.
Features
This cleaner is one of the most expensive ones in the Roborock line. However, it does have its cheaper analog within the same line—the Roborock S6. It has similar features but performs worse.
The Roborock S6 MaxV brush is a combination of bristle and rubber. There is also an edge-sweeping brush, which has rubberized bristles. It's much better than plastic ones used in other robotic cleaners. The unit also has an incredible suction level of 2500 Pa, so most types of contaminations on any floor surface aren't a problem for it.
The mopping feature is present, but it is pretty basic: it just drags a wet cloth around the floor. You can choose from three mopping levels: low, medium, and max. The mop is washable, so you won't have to replace it after each cleaning cycle.
For navigation, the cleaner uses the Lidar system and dual cameras that capture images at 30 FPS (you can view live images from these cameras in the app while the device is running). In my test for this Roborock S6 MaxV review, I never saw the cleaner get stuck or lost. It also doesn't wander around after cleaning, as many other models do; instead, it goes straight to the charging dock.
The Roborock app works very well for controlling the unit and personalizing your own cleaning settings. If you have pets and/or kids that make a lot of mess, you can program the unit to clean several times per day. You also can use it to draw no-go lines and no-mop zones directly on the map. Voice control is possible if you connect the unit to Alexa, Siri, or Google Home.
The long-lasting Roborock S6 MaxV battery (180 minutes) lets the unit clean about three rooms on one charge. Nevertheless, note that it takes approximately 6 hours to fully charge the device.
The S6 MaxV is definitely a decent model to consider for those searching for a high-end unit. For the features, it gets 10/10 from me.
Design
The Roborock S6 MaxV has a standard circular design with a black finish. There are three buttons on its top: Power, Dock, and Spot cleaning mode. There is also a raised disc with the company's logo on it that plays the role of a navigation sensor.
The unit won't make you spend a lot of time trying to find out how it works since its design is fairly simple. Thus, it gets a score of 10/10.
Conclusion
The Roborock S6 MaxV robot vacuum cleaner can provide worry-free cleaning and has powerful performance thanks to 2500 Pa suction, AI navigation, built-in cameras, etc. Of course, it isn't a cheap unit, but it still offers even more than you expect for the price.