Brother XR3774: Quilting and Sewing Machine with 37 Stitch Designs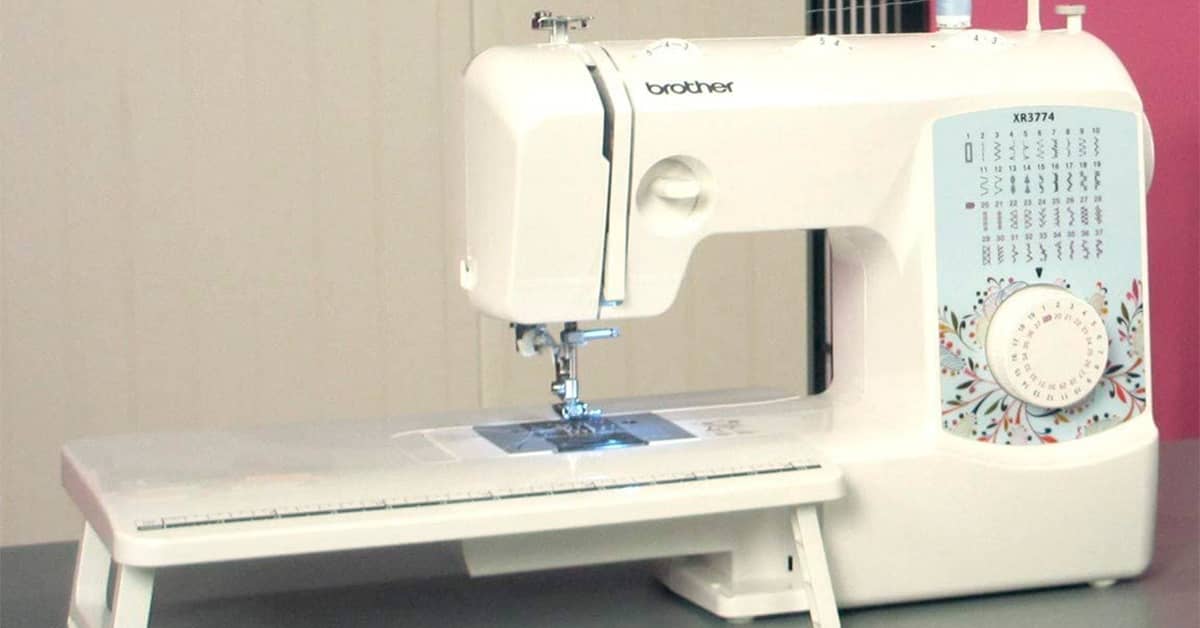 For first-time sewists and quilters, the Brother XR3774 provides more than enough. This electronic model has a minimalistic interface and is applicable for a wide array of projects since it has 37 built-in stitches and comes with 8 sewing feet. So, as your skills improve, this machine will still stay relevant.
Dimensions
The Brother sewing machine XR3774 is 12 inches long, 5.8 inches wide, and 15.3 inches high. It weighs just 12.3 pounds. So, this model is clearly made to be portable. It's easy to lift with one hand, and it doesn't take an excessive place on the table.
Features
I didn't need to resort to the Brother XR3774 manual to understand how to change the foot: there is a quick-change lever that makes sweeping the feet a matter of seconds. The walking foot that comes with the machine is very helpful for sewing thick fabric or several layers of fabric. The machine also comes with a set of needles that will allow you to work with different types of fabric like denim, fleece, etc.
The noise, emitted by the operating machine, isn't excessively loud, so it won't irritate you during long sewing sessions. The needle threader is super easy to use since it's automatic and works perfectly. The drop-in top bobbin is jam-resistant and has a see-through top cover that lets you keep track of the thread supply. The free arm appears to be very useful when sewing hems, cuffs, and sleeves. The foot pedal on the Brother XR3774 isn't sensitive; on the contrary, it gives you a sense of resistance, giving you more control over the sewing speed.
With this machine, you can easily get tight and reliable stitches. However, switching between stitch designs may be somewhat confusing. To select one of the first 19 types of stitches, you need to turn the dial. If you want to choose something between 20 and 37, you need to turn the dial and then push it to the limit. Many of the non-computerized machines from Brother use the same system for switching between the stitch types (like the Brother GX37, for example).
The XR3774 doesn't work flawlessly but has enough features to satisfy most needs of non-professional users. So, I can rate it at an 8/10.
Design
The Brother XR3774 sewing machine feels well-made and is mostly white except for the floral pattern that enframes the stitch design selector. Plus, the stitch pattern designs printed on the machine are located on a blue background. The reverse stitch lever is lightweight and fragile, providing a cheap feeling. Except for these two controls, there are also three wheels on the upper part of the machine that allow controlling stitch parameters.
The provided table stands on 4 legs for stability and is wide enough for large sewing and quilting projects. It just slides on and off, so you can just put it away when the machine isn't in use. The LED light doesn't light up the whole extension table—just the sewing area.
The machine has a typical Brother design with a logical control layout. So, as for me, it deserves a 9 out of 10 score.
Conclusion
Putting a point in my Brother XR3774 review, I can conclude that this model appears to be suitable for those who already have some experience and for beginners as well. It has a broad range of stitch designs and comes with a variety of sewing feet, suitable for different types of work. It also doesn't make a lot of noise while sewing and quilting.