Brother 1034DX: Overlocker with 22 Built-In Stitches and 1300 SPM Speed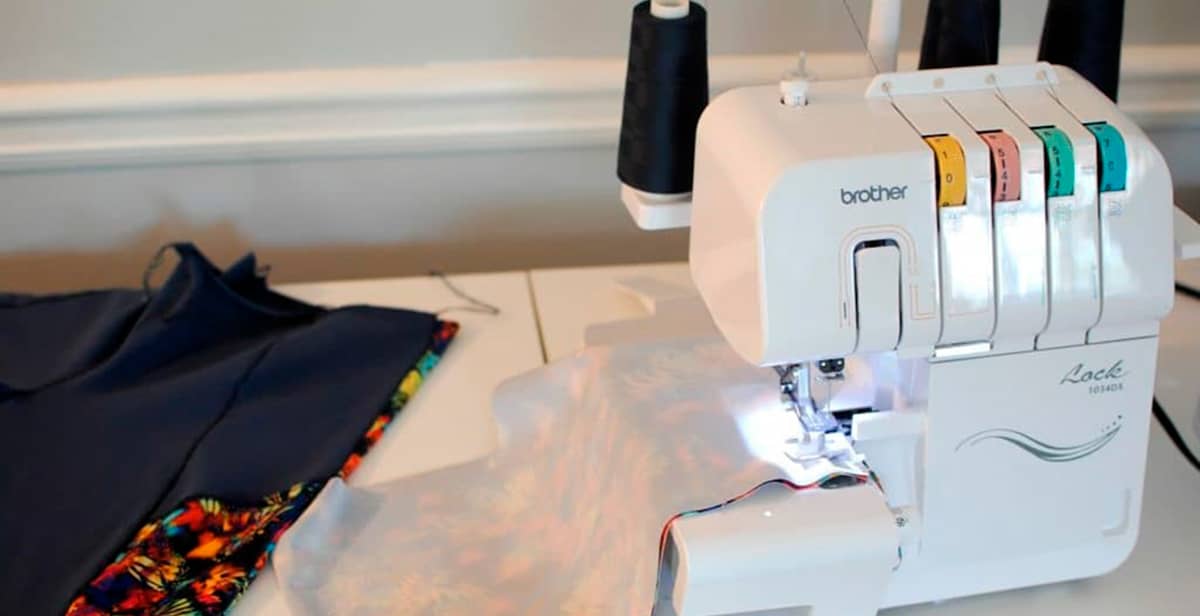 The Brother 1034DX is a serger machine that allows sewing over edges and hems as well as adding decorative details to your clothes. It's multifunctional but still easy to use, so it's suitable for professionals and beginners alike. In addition, it's reasonably priced and won't drain your budget.
Dimensions
The machine's size is average: 13 by 15.3 by 14.5 inches. The weight is 16.4 pounds.
Features
Brother has two very similar serger machines in its series that are very easy to mix up: the Brother 1034DX and the Brother 1034D. One of the main differences between them is the layout of controls that make the 1034DX better for right-handed users.
It ships with 3 snap-on feet (standard, blind stitch, and gather), a soft protective cover, a DVD with instructional videos, a needle set, a trim trap, 4 spools, among other things. Basically, it includes everything you'll need to get started. A 25-year warranty with technical phone support is a pleasant bonus to all the things mentioned above.
Because the arm can be removed, you can make neat seams on small items or clothes and reach cuffs and sleeves with ease. The presser foot pressure is adjustable, which adds to the convenience. The machine offers 22 unique built-in stitches that can be used for different types of decoration (formal, bridal, heirloom, etc.).
The machine is pre-threaded, and re-threading is simple, thanks to the comprehensive guide in the Brother 1034DX manual. In addition, video instructions on how to thread the machine are available on the included DVD. It's a versatile machine that allows you to use up to 4 threads simultaneously.
The feed dogs that move the fabrics can be adjusted from 0.7 to 2.0. The stitch width can be changed in the range from 5 mm to 7 mm. There is a removable trim trap where fabric trims fall into. However, a serger can leave a lot of fluff when it trims.
The Brother 1034DX serger machine is durable enough to handle thick materials. It's fast and efficient, with a maximum speed of 1300 SPM. The speed can be controlled with the help of the included foot pedal.
When it comes to maintenance, it should be cleaned with the provided cleaning brush and oiled when you find it isn't working smoothly or silently.
The machine has a very good price-to-quality ratio, and I give it a 9 out of 10 rating for features.
Design
The Brother serger 1034DX has a metal frame and comes in white color. It has mechanical controls that are easy to reach. All the thread tension dials are color-coded (from left to right: yellow, pink, green, and blue) and positioned on the front. A handwheel, a feed ratio adjustment dial, and stitch width and length adjustment dials are on the right-hand side. It also has a LED light that covers the working area.
Everything has been done by the manufacturer to make this machine simple and straightforward to operate. That is why it gets a perfect score of 10/10 for the design.
The cleaner's interface is simple and convenient, so it gets a 9/10.
Conclusion
In the conclusion of my Brother 1034DX review, I can say that this machine is a worthy investment regardless of your skills. It's durable and has a great set of features that allows implementing a lot of creative ideas. Thus, if you need an affordable, highly efficient, and speedy model with universal features, you should definitely give this unit a try.