Roomba i6: WiFi-enabled Robotic Vacuum Cleaner With App Support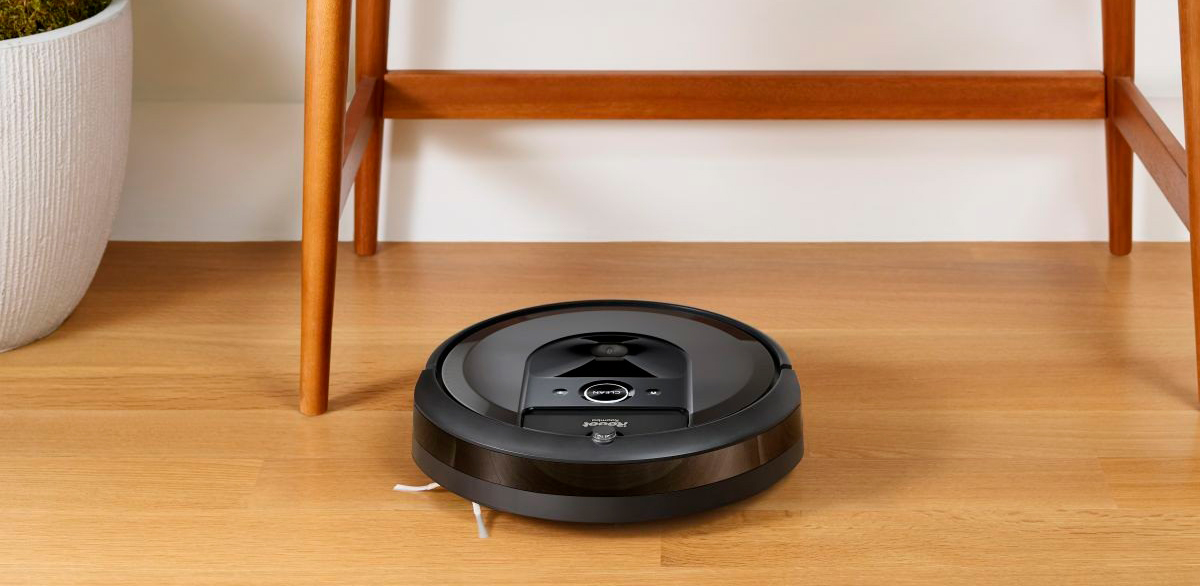 If you are checking online for a reliable robot vacuum cleaner, consider the iRobot Roomba i6 WiFi robotic vacuum. The manufacturer claims it has the capability of ten vacuum cleaners from its 600-series line, and, based on my experience, I agree. With soft bristles, edge detection capabilities, rubber bumpers to absorb the shock from bumps and falls, this Roomba will clean your house for a long time.
Dimensions
The Roomba i6 is a smart vacuum cleaner with a lot of power for something so small. This product is 19.63 inches long, 16.52 inches wide, and 15.75 inches tall, and has a 6-foot cord and 500 ml dust bin capacity. These numbers translate to a compact vacuum cleaner that can get in between tight spaces and under furniture. And in case you want to pick it up, the iRobot Roomba i6 weighs only 7.44 pounds, which is convenient.
Features
The first feature that excited me about this robot vacuum cleaner is its dual control system. You can control the product from the physical button or the iRobot Home app. I found this convenient, especially when the vacuum cleaner is out of reach or charging in its station. I could easily turn it on and give it instructions from the other end of the room. It also has a voice control system, which works with virtual assistants like Google Assistant and Alexa.
The Roomba i6 also picks up dirt quite well from carpets than previous generation vacuum cleaners. It uses a 3-stage cleaning process to lift, loosen, and pull dirt from floors and into its collection bin. The bristles are flexible, which helps it reach into corners and around square edges like table legs to pick up dirt. They were also soft on the plies of my carpet, and the suction was strong enough to pull tiny bits of grime, while the robot's sensors helped it avoid intense collision with walls that would have damaged the device.
The i6 mapped my home, learned my routines, and now suggests cleaning times. It has four cleaning modes:
Auto mode
Spot mode
Edge mode
Single room mode
I especially loved the spot cleaning mode for cases where I accidentally dropped crumbs on the floor. I can simply program the robot to clean that specific part of the room instead of vacuuming the entire area. Thanks to the "Keep Out Zone" feature, it stays away from the zones I don't want it in. Finally, I never have to worry about the battery dying mid-cleaning because the robot goes to its charging dock to juice up once its battery gets low.
Design
The i6 Roomba comes in one color option: black with silver top, which looks nice. However, I would have wanted other color options to give it a more aesthetic appeal. But my personal preferences aside, I think the build quality is solid, and the rubber wheels don't wobble. The rubber bristles are flexible enough to clean corners without breaking. The button on top of the unit lights up around the edges when pressed, and the cleaning bin pops out smoothly when you press the ejector button.
Conclusion
The robot vacuum cleaner from iRobot lives up to expectations as far as its cleaning abilities are concerned. Since it can charge itself and take instructions remotely, you will have little stress using the i6 model. You will be impressed by the device's thoroughness while cleaning wooden floors, smooth tiles, and carpets. So if you are still undecided about getting the product, this Roomba i6 review recommends iRobot's i6 model for anybody looking to make their home cleaning convenient.