ILIFE V3s Pro: Robotic Cleaner With 4 Cleaning Modes And Tangle-Free Brushes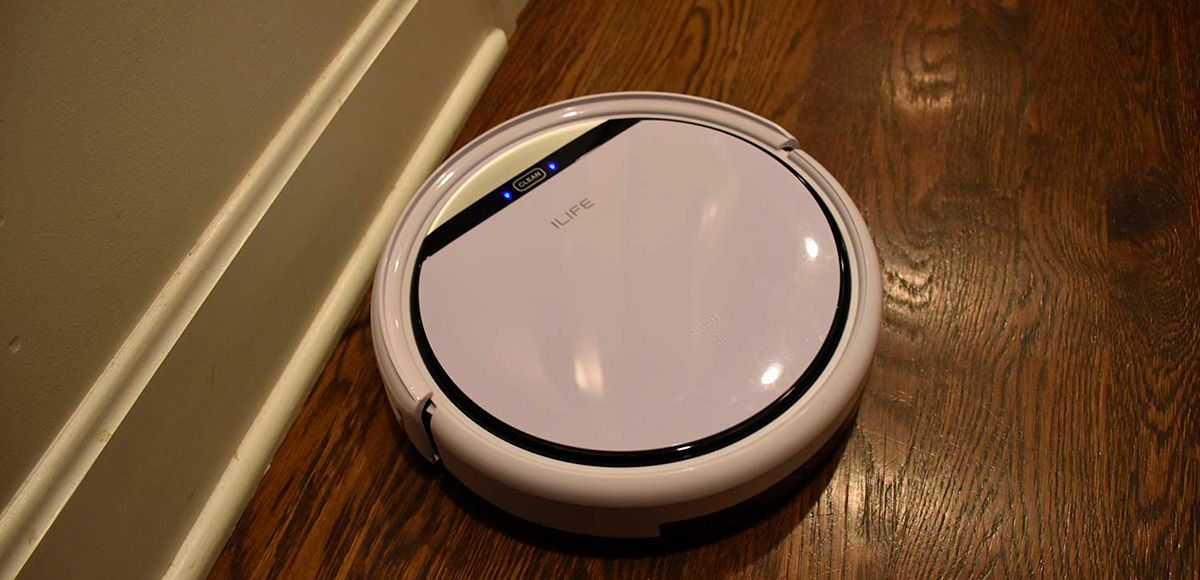 The ILIFE V3s Pro is a compact and budget-friendly robotic cleaner that is mainly designed for cleaning bare floors. It's easy to use and doesn't require too much interference in the cleaning process. This model is also able to clean various types of dirt: from dust and tiny debris to human/pet hair.
Dimensions
This cleaner is smaller-than-average, having 11.8 x 11.8 x 3 inches and less than 5 pounds. Thus, it's slim enough to clean in places where an ordinary vacuum cleaner simply can't get: under beds, sofas, and other furniture. However, such dimensions, obviously, don't allow for a large dustbin capacity, so the cleaner fits only 300ml lunchbox-like dustbin inside.
Features
The ILIFE V3s Pro robotic vacuum has 4 cleaning modes: auto clean, edge clean, spot clean, and schedule clean. Depending on the mode, the cleaner runs for 90-120 minutes. When the unit is low on charge, it automatically starts searching for a charging dock.
Instead of a standard roller brush, the cleaner features two three-spoke brushes. Special technology prevents hair from tangling around them. The cleaner is primarily designed to work with hardwood or tile, not with thick carpets. However, it still can handle a low-pile carpet.
The cleaner goes equipped with two large wheels that give it a maximum climbing height of 0.39 inches. Thus, the V3s Pro easily goes from hard floor to the carpet and even can ride over the door trim.
Three built-in smart anti-fall sensors won't let the cleaner fall off the stairs. There are also 10 sets of infrared sensors on the cleaner's front part that allow it to detect and avoid obstacles, so it will never stop the cleaning process just because it's stuck in front of your sofa.
The ILIFE V3s Pro uses a HEPA air filtration system which makes it a suitable option for people who have asthma and allergies.
The unit can be controlled only via the remote. It has a small LCD display and 10 buttons which allow you to program the cleaning schedule, switch between cleaning modes, pause/resume cleaning, manually direct the cleaner, etc. You can find out about other remote control functions from the ILIFE V3s Pro manual which includes comprehensive information about the cleaner's anatomy as well.
The ILIFE V3s Pro robot vacuum cleaner is easy to maintain. You just have to empty the dustbin and clean the filter after some cleaning sessions. The filter must be replaced on a monthly basis.
Design
This robotic cleaner features a standard round shape and has mainly a white body. There are only two buttons on the cleaner: the Clean button and the Push button to take the dust bin out. There are also the blue LED indicators, located on either side of the Clean button which indicate the cleaner's working status. The on/off switch is located on the unit's side panel.
Conclusion
So, to conclude this ILIFE V3s Pro review, I can say that it's a very basic model that can't even offer a smartphone control feature. However, it's still a great deal for those who are searching for a small cleaning assistant. It works especially well on hard floors and sucks in most types of debris. Although if you have a lot of long-pile rugs in your home, it will be better to look for another model.