Neato D6: Feature-Rich Robotic Cleaner with Excellent Navigation System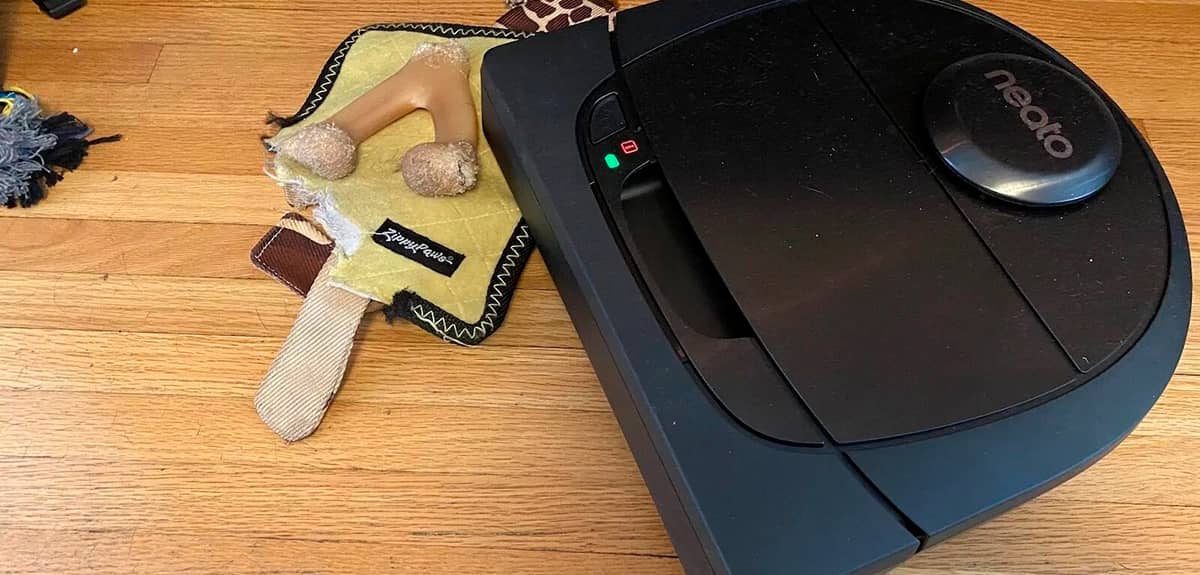 The following Neato D6 review describes a nearly fully automatic robotic cleaner that requires very little human interaction. It also works with a variety of smart gadgets (voice assistants like Alexa and Google Assistant, smartphones, tablets, and smartwatches).
Dimensions
The Neato D6 is 3.9 inches high, 13.2 inches wide, and 12.6 inches deep. It has a footprint of around 13 x 13 inches, which may make it difficult for the vac to navigate in tight spaces. The top-loading dustbin has a capacity of 700 ml. This way, you can empty it no more than after two full cleaning sessions.
Features
Neato releases its D-shaped robotic cleaners as a part of the Botvac line. The D6 is one of the most expensive models in this line. Only the D7 is costlier since it can offer the possibility to create customized cleaning zones and 5GHz Wi-Fi support if you're willing to pay an extra $100.
To begin, fully charge the Neato D6 as soon as you take it out of the box, then pair it with your smartphone and Wi-Fi (note that it does not support 5GHz Wi-Fi), and the cleaner is ready to use.
In the Neato app, you can see the plan of your floor up to three floor plans), set the no-go lines (so no virtual walls are required), and see where the cleaner got stuck, etc. You can also use it to program the vacuum to clean on a schedule.
This vac is laser-guided, so it has a purposeful cleaning path instead of a random one (like many robotic models do). It also easily gets itself out of jams (for example, when it gets stuck between two objects), making it a very intelligent cleaner.
The battery capacity of 4200 mAh is truly impressive. It allows the Neato Botvac D6 to operate for approximately 2 hours (depending on the mode) on a single charge. There is also a charge-and-resume feature, so after the vac is charged, it will return to where it left off and resume cleaning.
The D6 has two driving modes: Eco and Turbo. In the first mode, the cleaner operates almost silently (so you even can set it to clean in Eco mode at night), keeps its charge longer but cleans slowly. The second one maximizes the cleaner's ability to pick up dirt. Except for the cleaning modes, it also features an Extra Care mode that allows for more meticulous navigation.
The cleaner is equipped with a wide roller brush and a side brush, as well as a high-performance HEPA filter. They work well together to remove both small and large amounts of dirt such as dust, hair, crumbs, and so on.
The D6 is a really multifunctional model that can get 9 out of 10 stars for its features.
Design
The Neato Robotics D6 has an original D-shaped design and an all-black body (except for the brushed finish on top). The cleaner has a start button and two indicators (battery and connectivity) on its top, as well as a round-shaped turret that serves as a laser navigation system. The protective bumpers are located on the front.
The cleaner has a well-made, simple, and convenient design that can be estimated at a 10/10.
Conclusion
The Neato Botvac D6 Connected is a fantastic cleaner with a slew of cool features such as voice control, laser navigation, smart mapping, a well-thought app, etc. Many people, however, may find it prohibitively expensive.