Neato D4: Wi-Fi-enabled Cleaner with LaserSmart Mapping Technology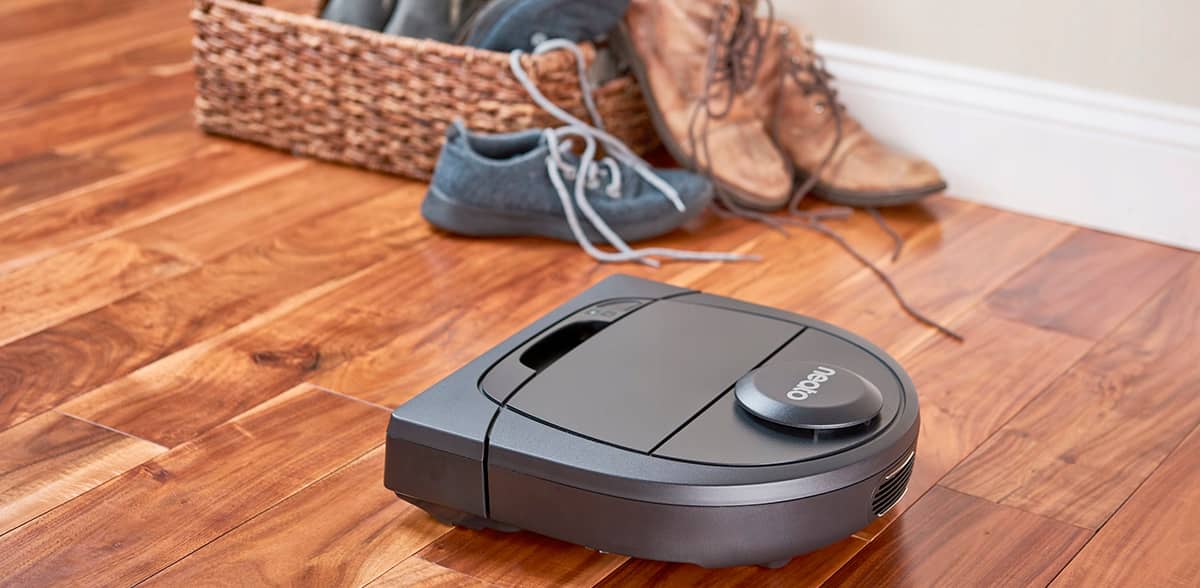 The Neato D4 is a robotic cleaner that ensures better-than-average performance. It falls into the mid-range category but has a couple of premium features such as laser navigation and accurate mapping.
Dimensions
The cleaner is 3.9 inches high. The height is added due to the disc (cleaner's laser navigation system) that sits on top of the unit. It features a large 0.7 L dustbin, so you won't have to empty it frequently. The main brush is 11 inches wide. The unit has an average weight of 7.4 pounds.
Features
The Neato D4 shares a lot of features with its more advanced counterpart—the D7—which is Neato's flagship model. For example, the LaserSmart mapping technology, zone cleaning, identical shape and dimensions, and so on.
The cleaner works on all types of floor surfaces and easily picks up onto carpets and rugs. It cleans in straight lines and sucks up pet fur, dust bunnies, and even long hair. As I discovered while testing the cleaner for this Neato D4 review, this model has quite an unusual brush that is composed of rubber and bristles. That is most likely why it is referred to as a "combo brush".
Unfortunately, the battery only lasts 75 minutes only. However, given that the cleaner's maximum working area is 1191 square feet, this isn't such a big deal. It will probably last enough to clean several small rooms. It also takes only 2.5 hours to charge from 0% to 100%. The charging dock is small and does not take up much space on the floor.
The Neato mobile app allows customizing the cleaning process. You can schedule automatic cleanings, map floors, set no-go zones, switch between cleaning modes (Turbo, Eco, etc.), and adjust other settings. Neato also promises to provide the app with regular updates. This also means that the Neato Botvac D4 will be getting new features. It also works with Alexa and Google Assistant and can be connected to your home Wi-Fi.
The smart laser-guided navigation prevents the bot from bumping into furniture and other objects in the room. The sensors are located on each side of the device, providing a 360-degree view. However, it should be noted that the cleaner may act strangely during the first few runs (stopping for no apparent reason, colliding with objects, and so on) until it learns your floor.
The cleaner has all the features to provide intelligent cleaning with minimal human intervention. Therefore, it wins 9 out of 10 points.
Design
All the models from Neato's D series have a D-shaped design (Neato calls it "CornerClean design"), and the Neato Robotics D4 is not an exception. Thanks to such a shape, the cleaner provides a more thorough cleaning in the corners and along the walls by sticking to them (standard round models can't do so).
The top surface is textured. The rest of the unit's body has a sleek matte black finish. Thanks to that, it attracts less dust and fingerprints that models with a glossy finish usually do. It has only one, multifunctional recessed button (power on/off, start/pause cleaning) and two LED icons (battery level and information).
The D-shaped is definitely effective and the cleaner isn't cluttered with unnecessary buttons due to full app control. Thus, I think it deserves a 10/10 for the design.
Conclusion
The Neato Botvac D4 Wi-Fi Connected vac is a great cleaner for small houses and apartments. This model isn't cheap and doesn't offer a lot of advanced features but cleans well. It has a top-quality navigation system, so it provides almost totally automatic cleaning.