Eufy 30C: Wallet-Friendly Cleaner with 4 Cleaning Modes and Ultra-Slim Design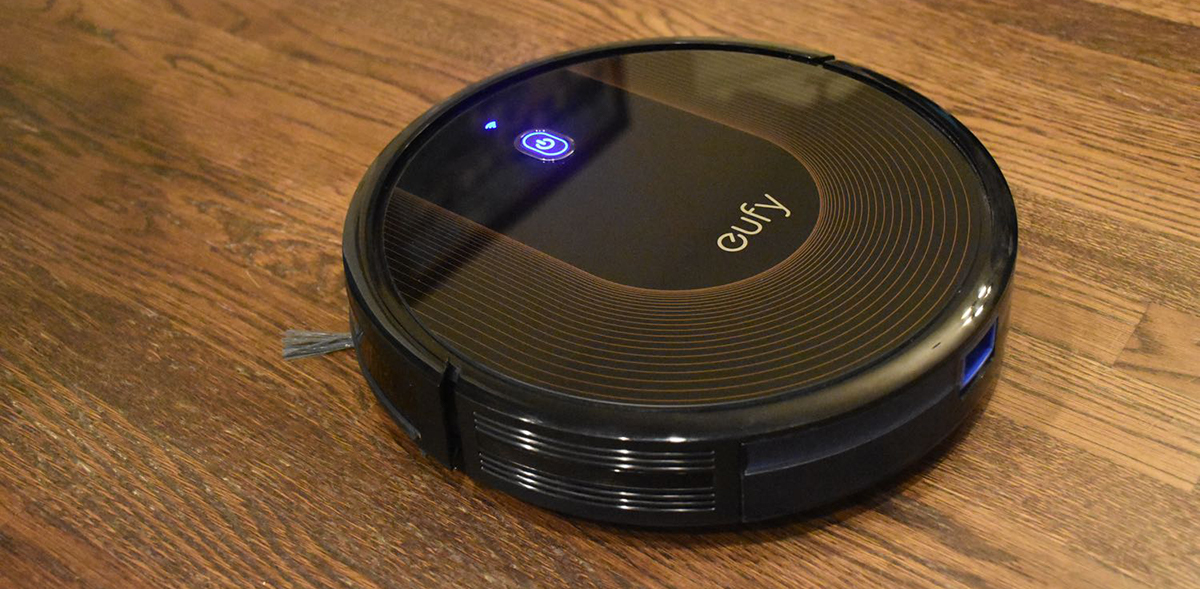 If a robotic vacuum cleaner with reliable performance at a low price is what you are searching for, this Eufy 30C review will most likely be of interest to you. This model is equipped with an innovative BoostIQ system that automatically increases the suction level when necessary.
Dimensions
The cleaner is sized at 12.8 by 12.8 by 2.9 inches. Having 2.9 inches in height, it appears to be thinner than most other robotic vacuums on the market (most of them are around 3.5 inches thick). Nevertheless, it still has a spacious 0.6 L dustbin.
Features
The Eufy 30C is an updated version of the Eufy 30. This model can now be controlled through a mobile app and voice assistant (Amazon Alexa and Google Assistant), but the price has risen only slightly.
The cleaner has 3 brushes (main brush and two side brushes) and uses a 3-point cleaning system. Thanks to a decent 1500 Pa suction level, it does a great job when cleaning on a high-pile carpet. It also has 4 cleaning modes:
The Auto and Quick modes also allow you to change the suction strengths. Thanks to the brushless motor, this model works quietly in any mode, and emits no more than 55 dB of noise, making it no louder than a microwave.
Unfortunately, the Eufy 30C doesn't have a laser room mapping feature and does have some navigation issues. I've noticed that it has problems finding the charging dock when it's a long distance away. You also should remember to keep the vac away from wires since it may try to vacuum them.
Although the manufacturer claims that the unit has a 100-min runtime, in fact, the battery lasted only 90 minutes during my test. However, it has a very quick charge time of 60–100 minutes, so even if you have a large house, it won't be a big issue for you.
You can control the Eufy RoboVac 30C using the EufyHome app even if you are away from your home. Another option for controlling the bot is to use the provided remote control.
Moreover, the kit also includes the 13.2 ft boundary strips that will allow you to restrict the cleaner's access to specific areas of your home.
The majority of the vacuum features are quite basic, and its performance is a little iffy. However, it still provides excellent value for money and thus receives an 8/10 from me.
Design
On the top panel of the Eufy BoostIQ RoboVac 30C, there is only one Power button and a Wi-Fi indicator. The Power button also has an LED light that glows orange when the cleaner is low on charge and red when there is an error. The unit is available in black and white colors. The top surface is reflective because it is made of tempered glass, which is far more durable than plastic and nearly impossible to scratch.
This vacuum's design is very minimalistic, but there are three ways to fully control the unit, so you won't need more buttons. Thus, in this category, the 30C receives a 10/10.
Conclusion
This Eufy RoboVac 30C review uncovered a decent inexpensive cleaner with app control and good suction. It has some navigation issues and doesn't last as long on a charge, but it's still a great unit that produces good cleaning results. You just have to keep an eye on it from time to time.